The saying goes "You can't judge a book by it's cover." Ironically, this saying is even more relevant when it comes to video games. Although the truly dedicated gamers know what's good and what isn't regardless of the first thing they see in the store, there have been several video games that are prizes to any collection, in value, not in art.
What do I mean by this? Well…
#7 — Super Mario Bros. (NES)
Ah the NES era. Responsible for countless classic games, great nostalgic memories, and this little gem. The original Super Mario Bros. (and it's subsequent remakes) is still one of the most popular games of all time.
What wasn't to love? It was a simple game which saw players moving consistently from left to right, all the whilst jumping over obstacles, jumping on enemies, and defeating the evil King Koopa in order to save the beautiful (?) Princess Toadstool.
But look at this box! Granted, this was before video games had multi-million dollar production values like they do now, so simple box arts were not only acceptable, but it was games like Legend of Zelda and Final Fantasy that made it okay to have just a logo and maybe something simple on the cover along with it.
What does this cover have on it? It has Mario in fire mode. Some random castle wall there with a fireball somehow lodged inside it, and…..is that lava?
That's right kids. At best, this cover depicts the frustration of an uninspired cover artist who just decided to cram as much exciting stuff on the cover as possible to interest people. If it's what the internet seems to think it is, this depicts the very last moment of poor Mario's life as he plummets into the firey death down below.
Don't believe it? This picture is floating around the internet.
And while we're on the subject of NES games…
#6 — Mega Man (NES)
Oh come on, you all knew this was coming. The original Mega Man was an iconic game that caused many broken controllers and put some people off of gaming for life due to its insane difficulty. But even the folks at Capcom know that this cover is hilari-bad. They even planned to use "Ugly Mega Man" as a boss in the now cancelled Mega Man Universe.
On top of the uglyness of the main character, it's just impossible to be able to tell what's going on here. There are palm trees, strange mechanical buildings, and…..wait….is Mega Man holding a gun?!? The iconic Mega-Buster was supposed to be a gun?!
Well at least they tried. Unlike….
#5 — ICO (PS2)
It's not so much that the box for the PS2 cult classic ICO was a bad box, but the look of just throwing some stuff on a box and blurring it so it looked like it fit is so much more "meh" than its European counterpart, which looks so good that it could be hung up in an art museum.
Speaking of art…
#4 — Borderlands (Xbox 360, PS3, PC)
Okay, Gearbox, I get that Borderlands is supposed to be over-the-top, crazy, awesome, and all things that Duke Nukem Forever didn't quite live up to, but what in the world was the inspiration for this? And what really is that stuff coming out of that guys head? Don't answer that. I'm pretty sure I don't really want to know.
I'll give you that it's creative. Which is something that couldn't be said of…
#3 — Every "Hero" Game Since Activision Took Over (Tons of consoles)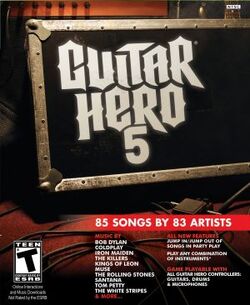 We could debate all day on whether the Guitar/DJ/whatever Hero games were actually good past Guitar Hero 2, but for the sake of argument, let's assume that they are praised everywhere.
Look at those three covers above. Okay, now look at the cover for the very first Guitar Hero game:
You know what makes the original different than the newer ones? The original doesn't look like a freakin' magazine ad. You got Johnny Napalm on the front striking a cool pose. A cool logo. No BS. The newer covers are very minimal, with the most effort apparently going towards advertising specific songs on the front of the game. This not only looks horrible, but it also means it's the earliest signs of Activision getting desperate at selling these games.
Think about it. If you really wanted to know which songs are in the game, chances are that you'd pick up the game and look on the back to see what it has. Activision clearly knew that people weren't even picking up their games anymore, and made the last ditch attempt at garnering interest by putting famous artists on the front, where no picking up is needed.
And don't even get me started on Guitar Hero: Metallica, one of my favorite bands and my personal favorite music game:
Ugh.
While we're on the subject of Activison…
#2 — Goldeneye 007 (N64)
Okay, so it's not a bad box. I'm only really including it for one reason. The box has been ruined for me. Take a good look at it. I'll give you a minute.
You done? You see what I'm talking about? For those who can't pick up on it, this picture is also floating around the internet:
And now you can't unsee it.
#1 — The Orange Box (PC, PS3, Xbox 360)
Orange Box was a masterpiece. Gamers got the amazing single-player stylings of all the Half-Life 2 games, the award-winning multiplayer battle game Team Fortress 2, and the experimental instant hit Portal.
I worked at Toys "R" Us when this baby came out, and was embarrassed every time I looked at it. Recommending it to every customer looking for a great and unique game was difficult because no one took it seriously. Let's be honest, Valve could have had a solid orange box with the Half-Life Lambda symbol on it and it would have been pure gold.
Instead, we got a mish-mash of characters from the respective games, and a list of games that seemingly took up way more space than it needed. It's not like these names would have helped at all anyway. All of these are fairly hardcore games. And chances are, if you're interested in the game(s) at all, you already know what this box contains.
I guess that's why Valve is currently the king of digital distribution, where they have to make significantly less boxes.
Gamers, what say you? Anything that you think belongs on the list? Any repressed memories that I've unfortunately unearthed?