As has been much discussed for long in advantage, the big battle for cinematic supremacy this summer is being staged between the two most diametrically opposed movies you could imagine. Pink vs. black, day vs. night, dolls vs. atomic bombs. Yes, it's all about Barbie vs. Oppenheimer when it comes to box office domination as we head into late July, early August, thanks to Marvel and DC unusually skipping this lucrative period.
Nevertheless, perhaps examining Barbie and Oppenheimer's Marvel and DC connections is the only fair method of settling the eternal war between the two films. Who cares about how much money they make or who gets the better reviews? What we're all really talking about with these productions is the incredible cast of A-listers that both Christopher Nolan and Greta Gerwig have assembled — both movies feature a veritable Avengers and/or Justice League of Hollywood icons.
But which of the two features the higher concentration of superhero stars? Let's find out.
Barbie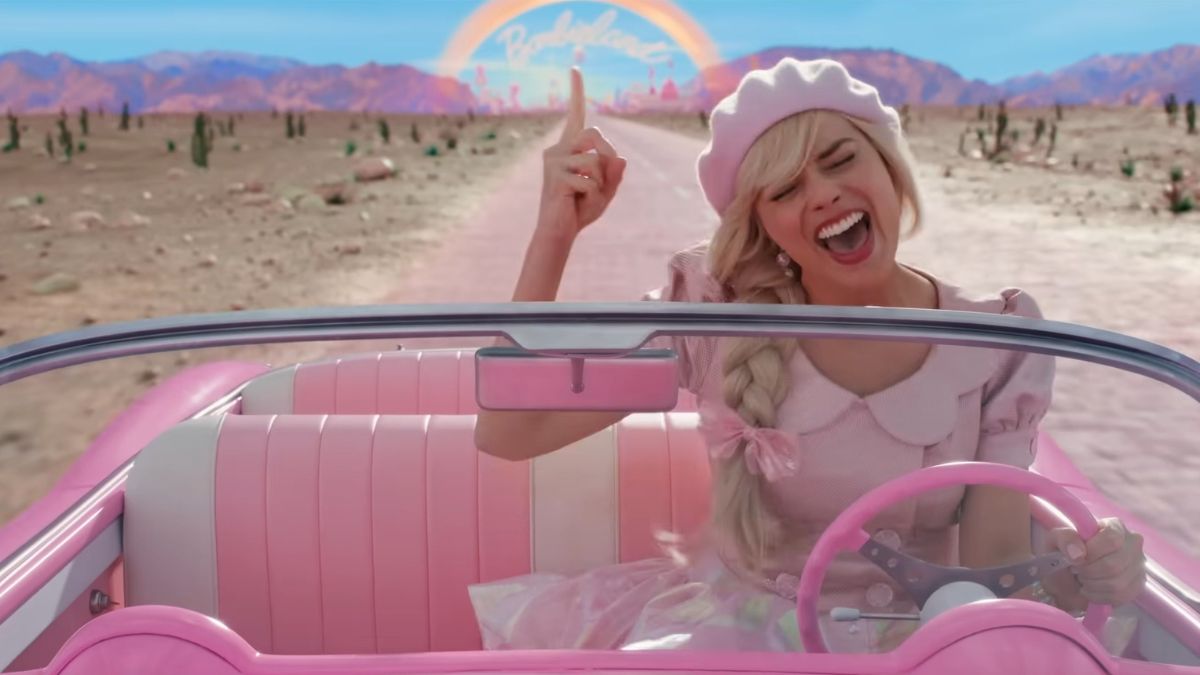 Marvel
Simu Liu (Ken/Shang-Chi)
Kinglsey Ben-Adir (Ken/Gravik)
Alexandra Shipp (Barbie/Storm)
Arianna Greenblatt (Sasha/Young Gamora)
DC
Margot Robbie (Barbie/Harley Quinn)
John Cena (Ken/Peacemaker)
Helen Mirren (Narrator/Hespera)
Michael Cera (Robin/Allan)
The most notable comic book cinema veteran in Barbie is obviously the doll of the hour herself, Margot Robbie, most known for playing DC's Harley Quinn. Her The Suicide Squad co-star John Cena joins her as Merman Ken, with Shazam! Fury of the Gods villain Helen Mirren on narrating duties. And don't forget Michael Cera, who once voiced Robin in The LEGO Batman Movie, as Ken's little-remembered best pal, Allan.
Over on the Marvel side of things, the MCU's own Shang-Chi Simu Liu plays another of the Kens, as does Kinglsey Ben-Adir, currently intimidating all as Skrull villain Gravik on Disney Plus' Secret Invasion. Then there's Arianna Greenblatt, most known as Young Gamora in Avengers: Infinity War, who plays Sasha. Last but not least, Alexandra Shipp — who portrayed the younger version of Storm in the latter entries in Fox's X-Men saga — is on board as Writer Barbie. All in all, a respectable smattering of Marvel/DC alumni.
TOTAL: Marvel (4) + DC (4) = 8
Oppenheimer
Marvel
Robert Downey Jr. (Lewis Strauss/Iron Man)
Matt Damon (Leslie Groves Jr./Actor Loki/uncredited Deadpool 2 cameo)
Florence Pugh (Jean Tatlock/Yelena Belova)
Kenneth Branagh (Niels Bohr/uncredited Avengers: Infinity War cameo)
Dane DeHaan (Kenneth Nichols/Harry Osborn)
Emma Dumont (Jackie Oppenheimer/Polaris)
DC
Cillian Murphy (J. Robert Oppenheimer/Scarecrow)
Gary Oldman (Harry S. Truman/Jim Gordon)
David Dastmalchian (William L. Borden/Polka-Dot Man)
Jack Quaid (Richard Feynman/Superman)
TOTAL: Marvel (6) + DC (4) = 10
Unfortunately for Barbie, however, Oppenheimer has an even more impressive collection of superhero stars in its cast list. You might think that Nolan's habit of hiring the same people would give this movie an unfair advantage and, well, you'd be right as Oppenheimer features three familiar faces from The Dark Knight trilogy — Cillian Murphy, Gary Oldman, and comic book cinema's jack of all trades, David Dastmalchian (likewise known from the Ant-Man movies, TV's The Flash, and The Suicide Squad).
And yet we also have plenty more where they came from, including the one and only Iron Man himself Robert Downey Jr., Marvel cameo extraordinaire Matt Damon, Black Widow's Florence Pugh, The Amazing Spider-Man's Dane DeHaan, Thor director Kenneth Branagh, Emma Dumont from TV's The Gifted, and DC's latest Superman (no, not that one), Jack Quaid.
RESULT: OPPENHEIMER WINS
You tried your best, Barbie, but the might of Nolan's Oppenheimer cast definitely wins the race here. To be fair, a few other Barbie players have been on the cusp of Marvel and/or DC roles over the years, from Emma Mackey narrowly missing out on being Lois Lane to Ryan Gosling being rumored for everything from Ghost Rider to Sentry. Plus, Greta Gerwig herself is open to helming a superhero flick one of these days. Nonetheless, while Barbie looks destined to become a cult favorite among film fans and Oppenheimer stands a good chance of cleaning up at the Oscars, there's only one winner when it comes to the all-important Marvel/DC crossover category.