Since Nimona is currently coasting with a 94% on Rotten Tomatoes, it's safe to say that the Netflix production is making waves in the animated industry. Originally a Disney property, Nimona was canceled for explicitly showing a same-sex kiss on screen, but Netflix salvaged the project and made certain that it went ahead, much to the delight of LGBTQ+ viewers everywhere.
Despite being knocked out of the Top 10 early in its streaming run, there are already talks of Nimona getting a sequel, purely based on the overwhelmingly positive reception it received upon release. If you've already seen Nimona and find yourself looking to bridge the gap between long hiatus and the (maybe) sequel, there are a handful of other animated adventures that bare some striking similarities.
Moana
When Moana arrived in theaters back in 2016, it acted as a much-needed cultural reset for POC representation in children's movies. Back in Disney's Renaissance Era, we had our first-ever Asian princess in Mulan, then in the mid-2000s, we were given the very first Black princess, Tiana, in The Princess and the Frog. Ever since, Disney has been slow on the uptake of adding POC to new releases, but in the last half-decade, more and more POC and snagging lead roles.
One of Nimona's biggest draws is the complicated relationship between Nimona and Ballister, which blossoms from mere acquaintances to a father-daughter dynamic. The same can be said for Moana and Maui, who start out as enemies and become practically family, offering us a heartwarming brother-sister pairing.
Raya and the Last Dragon
With her recent stint as Scuttle in The Little Mermaid, Awkwafina has made a reputation for herself as the loveable animal sidekick. She started this trend in Raya and the Last Dragon, where she voices Sisu, the last surviving dragon who aids the warrior princess Raya in restoring the dragon gem to save her father and banish evil spirits from her land.
Raya and Sisu are an unlikely pair, but both are brave and passionate, so their friendship becomes the ultimate key to restoring the gem and saving the five tribes of Kumandra. Although Nimona and Ballister have a much more chaotic relationship than Raya and Sisu, both movies tell a story of one human and one super-powered being joining forces to defeat a common enemy.
Luca
As we find out in Nimona, the titular imp-demon is a shape-shifter, able to transform into any animal at will. We see Nimona become a shark, a rhino, and even prehistoric creatures such as dinosaurs. Essentially, she can shapeshift into any animal that has existed at any period in time. That same concept applies in Luca, albeit to a lesser extent. Rather than becoming any living creature, Luca was born a sea monster and discovers that he can transform into a human when on dry land.
Just as Luca finds solace in Alberto, a like-minded individual, the same can be said for Nimona, who assigns herself as Ballister's sidekick after sensing a "villainous spirit" in him. Although Nimona simply wants to cause chaos and "break stuff," Ballister is working to clear his name after Queen Valerin's sudden death. Just as Nimona is looking to be accepted by society for her powers, Luca campaigns for humans and sea monsters to co-exist peacefully.
Onward
Another key selling point for Nimona is the action-packed adventure that the main characters embark on. As for Onward, the story follows two elf brothers who set out on a quest to obtain an artifact that will temporarily revive their deceased father. Their journey is chock-full of strange mysteries, head-scratching puzzles, and an exciting treasure hunt. The voices of Chris Pratt and Tom Holland as Ian and Barley, respectively, certainly make Onward more appealing, and that same fact applies to Nimona with Chloë Grace Mortez and Riz Ahmed in the lead roles.
Another theme consistent with both movies is the use of magic; Onward takes place in a world inhabited by mystical creatures, whereas Nimona is set in a medieval-futuristic kingdom primarily inhabited by humans and a handful of individuals endowed with magic. In both instances, the story's core characters share a bond that acts as the driving force behind the narrative, so if it's well-written characters with an endearing relationship that appeals to you, Onward is a must-see.
The Sea Beast
Nimona is the epitome of a disorderly father-daughter relationship, but The Sea Beast perfectly mimics that attribute. The story revolves around Jacob Holland, a sea monster hunter who teams up with an orphan girl named Maisie to find the elusive Red Bluster. In this scenario, Jacob is Ballister and Maisie is Nimona, as both pairings result in mayhem and hilarity. Both movies are essentially the same concept explored in different time periods under different circumstances.
It's also worth noting that both are Netflix productions, so there's some consistency in both the storytelling and the animation. There isn't any magic involved like Nimona, but that certainly helps to give The Sea Beast more of a grounded feel as it focuses on pure human connection rather than over-the-top effects and surrealism.
Epic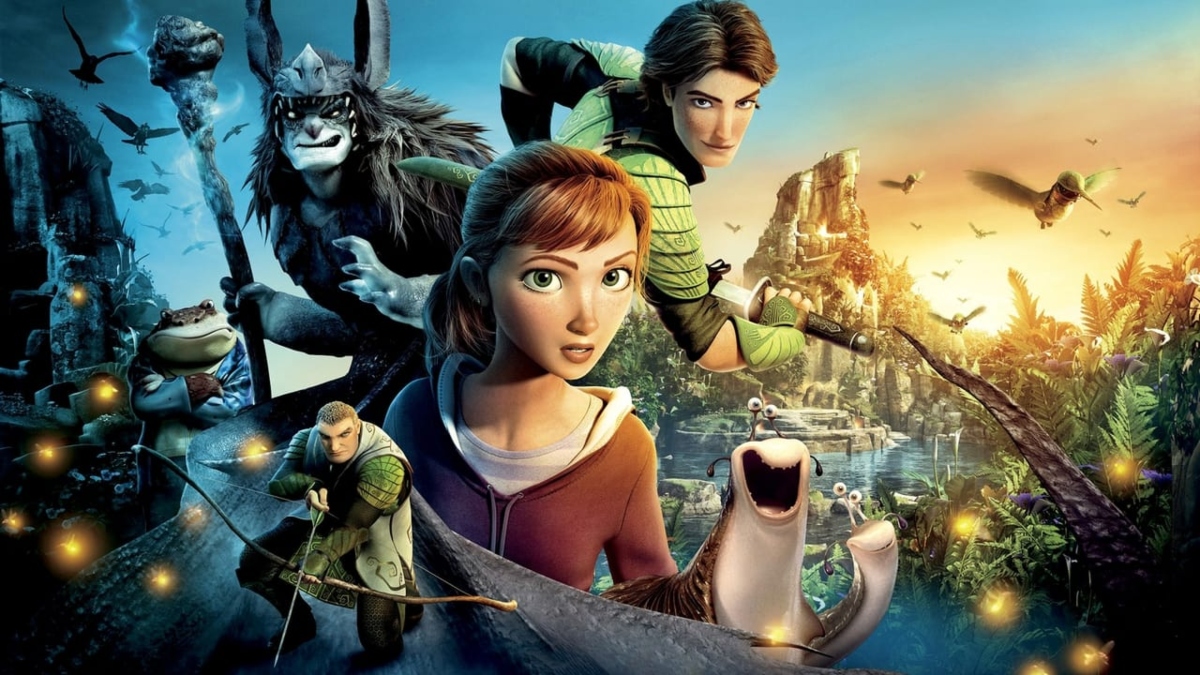 An often overlooked animated feature, Epic released back in 2013 and starred the voices of Amanda Seyfried, Josh Hutcherson, Colin Farrell, and Christopher Waltz. This action-adventure fantasy is based on William Joyce's 1996 children's book The Leaf Men and the Brave Good Bugs and revolves around teenager Mary Katherine (M.K.) who gets shrunk and joins the civilization of a tiny woodland kingdom inhabited by slugs, flower people, and soldiers known as Leafmen.
Along the way, M.K. meets Nod, a rookie Leafman who becomes her eventual boyfriend. There are some similarities between M.K. and Nimona, namely how they are called upon to protect the kingdom they reside in, join forces with a high-ranking male soldier (or knight, in Nimona's case), and save the day despite coming from different walks of life and largely being misunderstood due to their species.
Big Hero 6
There's no denying that Big Hero 6 is one of Disney's greatest triumphs in the last decade, effectively crafting a more child-friendly version of Marvel's Avengers. Not only are the protagonists exceedingly likable, as with Nimona, but Big Hero 6's central plot focuses on the bond that forms between Hiro and Baymax, which is just as unconventional as Nimona and Ballister. On one hand, you have a seemingly ordinary person, and on the other, you have a being of extraordinary power and resolve. Baymax and Nimona might not look like much, but they both pack a pretty big punch.
Both movies feature a mysterious antagonist — 'The Director' in Nimona and 'Yokai' in Big Hero 6 — who manipulates the protagonist in some way. For Hiro, his micro-bots are used as weapons. For Ballister, he's framed for the murder of Queen Valerin. Both of these events trigger the main conflict in each story. Big Hero 6 stars the voices of Scott Adsit, Ryan Potter, Daniel Henney, T.J. Miller, Jamie Chung, Damon Wayans Jr., Genesis Rodriguez, James Cromwell, and Alan Tudyk.
How To Train Your Dragon
In a much more on-the-nose manner, How To Train Your Dragon also deals with a wanna-be 'warrior' and a so-called 'beast' that's been outcasted by a village. For centuries, the Nightfury was branded the most fearsome of all dragons, never to be seen by the naked eye for long enough to survive the encounter. Meanwhile, Hiccup wants to be a macho Viking like his father, the Chief of Berk. But when he corners a Nightfury, becoming the first Viking to do so, Hiccup can't bring himself to kill it.
From there, Hiccup and Toothless (as the Nightfury is appropriately named) form an inseparable bond and convince Berk that Vikings and dragons can live harmoniously. Dragons are no longer viewed as savage beasts and instead work alongside humans as pets. The same applies in Nimona, as the titular shapeshifter is eventually accepted by society after saving the kingdom from a deadly threat. So if it's a tale of acceptance you're after, How To Train Your Dragon is a perfect match.
Wreck-It-Ralph
If there were ever a movie on this list that emulates Nimona to an absolute T, it would be Wreck-It-Ralph. There's a brutish oaf who's never truly fit in and whose friends turn against him and a little girl with an extraordinary gift that's only ever viewed as a nuisance and a mistake. Both Nimona and Vanellope possess special abilities that are frowned upon by others, but they enlist themselves as the sidekick to another unfortunate soul and vow to help them clear their name.
In Ballister's case, he's looking to prove that he didn't murder Queen Valerin, whereas Ralph is trying to prove his worth as more than just a stereotypical bad guy. Although they don't see eye-to-eye at first, both pairs eventually become inseparable and succeed and convincing the world around them that they aren't a threat. That pursuit forces them to cross paths with some common enemies, but the ultimate redemption is well worth the sacrifice.
Ron's Gone Wrong
Directed by Jean-Philippe Vine in his feature directorial debut, Ron's Gone Wrong focuses on Barney, a middle-school teenager who befriends a defective robot named Ron and must protect him from corporate employees who view Ron's flaws as bad publicity and seek the B-bot to be destroyed. Both Ron's Gone Wrong and Nimona feature a so-called 'defective' protagonist who society views as irredeemable.
In Nimona's case, she's considered dangerous due to her powerful shapeshifting abilities. As for Ron, his programming malfunctions make him much more human than regular bots, which inconveniences those around him and shines a bad light on Bubble's CEO Marc Wydell. There's also the matter of both Ron and Nimona sacrificing themselves (supposedly) to save those who deem them freaks, effectively clearing their names. Both of these stories focus largely on redemption in the face of adversity.