J. Cole finds 'J. Cole type beat' on YouTube' raps on it and then gives it to creator for upload
It's not every day when a creator gives back to the community, especially when their work inspired them to create something similar. That seems to be the case for a lucky J. Cole fan when the rapper asked them to release a track featuring one of their beats.
Music producer, bvtman, released a private message between him and J. Cole, who sent him an audio file of a rap featuring the producer's beats as the backing track. J. Cole told the music producer that this track deserves to be uploaded to their YouTube channel and was created because he was looking for inspiration and motivation. The rapper encouraged the music producer to continue what they were doing and attached the file at the end.
Bvtman said on Instagram that he's achieved his dream and J. Cole recording a track using one of his beats means the world to him.
"If you know me you know what this post means to me & what this song means to me. If you know me you know this is my peace finally, my dream."
The full 3-minute audio was released publicly on bvtman's YouTube channel for everyone to listen. Fans praised the music producer for this achievement and J. Cole for using fan content as inspiration. Fans believed that J. Cole using fan content "changed the game" for music producers and encouraged fans to continue creating quality content.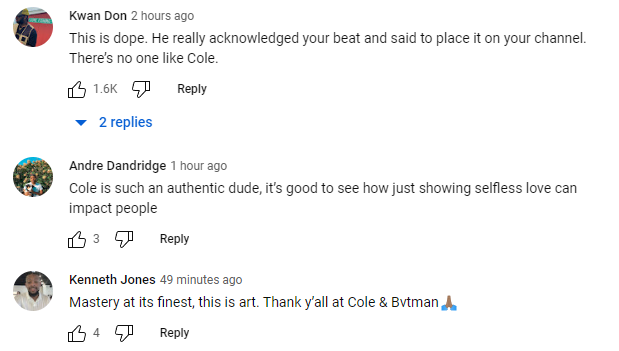 Bvtman has been producing music for more than 10 years and specializes in creating "type beat" content. His music expands from J. Cole and has used other artists like Kanye West, Kendrick Lamar, and Drake as inspiration. Hopefully, more big artists take note of this and consider collaborating with their talented fans.