Emmy nominations are finally out and there aren't too many surprises: Succession, The Last of Us, The Bear, and White Lotus are dominating, and Ali Wong's BEEF gets a few well deserved nods too. However, one category has been snubbed as a whole, highlighting a raft of huge issues that have been plaguing the industry for a while now.
Outstanding Short Form Animated Program has had a rich, albeit short, history of honoring some of the best animation of our time. Although it only became a fully-fledged category in 2010, in the short time the prize has been awarded it's been given out to outstanding shows like SpongeBob SquarePants, Robot Chicken, and Adventure Time.
The prize, awarded to the best animated show or special that runs for 15 minutes or shorter, was listed on this year's document from the Academy of Television Arts & Sciences (ATAS) with the below note:
"Submissions were prescreened to determine nominations. None of the submissions received nine-tenths approval, resulting in no nominations this year."
So, not exactly a ringing endorsement from ATAS. Some online have offered the idea that the best shows in this category are more likely to have been entered into different categories, that will be awarded later this winter.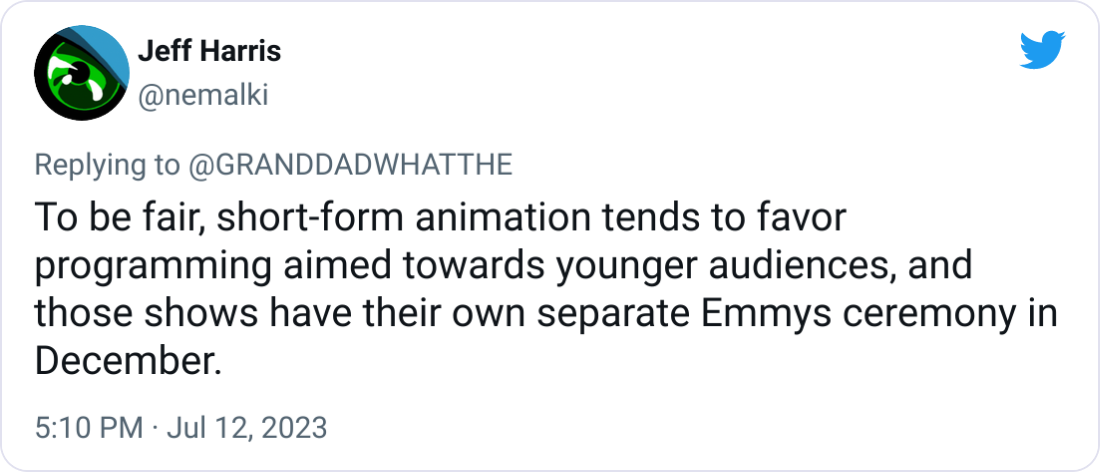 Even with this caveat, it has to be said that the state of animation in general is not great, like so many other facets of the entertainment industry. This is down to a number of reasons, but like most creative issues can be blamed mostly on studios prioritizing profits over producing good quality content, the creative minds behind animated series' being overworked and undervalued, and the aftershocks of the pandemic.
Issues in the animation world were certainly made worse by the glut of high quality animated shows that flooded the market during the COVID years, thanks to it being one of the few visual storytelling mediums that could be produced entirely remotely. Suddenly, studios and production houses were pumping money into this previously rather unloved section of the industry, instead of just renewing The Simpsons for another season and hoping for the best.
However, as 2022 trundled on, the animation love-in began to sour. Content makers like Disney, Hulu, and Netflix who had invested in animation began to pull back, which saw us lose some unique and interesting animated shows like The Midnight Gospel and City of Ghosts.
This year, things have become even worse, with beloved series' like Pantheon (AMC), Inside Job (Netflix), and The Owl House (Disney Plus) getting the chop. So, is it any surprise that there are fewer people bothering to put their heart and soul into something truly brilliant, when the likelihood is that a network or content maker would rather do a boring reboot that will guarantee numbers, instead of prioritizing creatively daring and innovative shows?