'Stranger Things' star Noah Schnapp comes out as gay on TikTok
Noah Schnapp has come out as gay in a TikTok, remarking on how he's got a lot more in common with his Stranger Things character than he thought.
Best known for his role as Will Byers in the hit Netflix series, there had been plenty of speculation and debate before the fourth season over his character's sexuality. Eventually confirmed to be gay, and also in a tragic unrequited love situation with one of his friends, it was one of the highlights of the heavy fourth season.
Schnapp has also given extra reason as for why his performance is so strong as Will during the arc, with him officially coming out as gay during a TikTok. The 18 year-old actor said he came out to his family and friends recently, and their response was simply "we know."
His caption for the post was "I guess I'm more similar to Will than I thought", which is hard to deny. Schnapp has been showered with love on his post, with the world loving him finally feeling comfortable to come out.

The official Netflix account also sent its love in to the star, with them commenting three hearts. Schnapp coming out also makes him the first openly gay member of the cast, with him really becoming the embodiment of his character.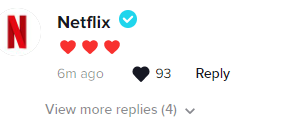 Stranger Things has been a monster hit for the streaming service, with its fourth season seeing some truly ridiculous viewership numbers. The midyear release has seen some competition in the form of Wednesday which released in the last quarter of 2022. If they ever found a way to crossover the two franchises, it might be game over.
Stranger Things is available to stream on Netflix.