Where is the 'Grown Ups' cast now?
In a career full of wins for Adam Sandler, Grown Ups stands out as one of his best. Along with Happy Gilmore and Billy Madison, it definitely has a place among his best films. The 2013 sequel, Grown Ups 2, not so much.
The movie premiered in 2010, and, despite punishing reviews, it went on to make $271 million on a budget of $80 million, and this was before TBS started showing it every five minutes.
For the uninitiated, Grown Ups tells the story of a group of friends who were all on the same basketball team in junior high. They won the school's championship in 1978, and they reunite during the 4th of July weekend after hearing about the death of their former coach. Hijinks ensue. Honestly that's about it, but within that structure is some comedic gold.
Sandler hired a bunch of his friends to make the movie, including Kevin James, Chris Rock, David Spade, Rob Schneider, Salma Hayek, Maria Bello, and Maya Rudolph. Where are they now? Let's find out.
Adam Sandler
Sandler has been very busy since 2010, and the most notable thing is probably a critically-acclaimed foray into serious acting. He appeared in the 2019 nail-biter, Uncut Gems, playing a debt-ridden jewelry dealer who's trying his best just to stay alive.
He signed an extremely lucrative deal with Netflix in 2014 and has made more than five films for the streamer so far. In 2018, he released a comedy special called 100% Fresh, notable for an emotional song about his Saturday Night Live castmate, Chris Farley, who passed on Dec. 18 in 1997.
His latest movie, Hustle, is the story of an NBA scout who meets an insanely talented player in Spain and tries to get him into the league. It's streaming on Netflix.
Kevin James
Kevin James has also been busy since his foray into being a grown up. In 2011, he starred in The Dilemma and Zookeeper. He played a mix martial artist in Here Comes the Boom and a contract killer in True Memoirs of an International Assassin.
He recently starred in Netflix's Home Team, which quickly landed on the top of the streamer's charts. It's about real-life NFL coach Sean Payton who was suspended from the league for a year. While on hiatus, he decides to coach his son's high school football team. It got terrible reviews, but that honestly doesn't seem to matter anymore.
David Spade
David Spade has also been in the spotlight since he starred in Grown Ups. He rose to fame on Saturday Night Live, where he met Sandler, and the two started a friendship that would span decades. He's been in quite a few movies since Grown Ups, including the Hotel Transylvania franchise, Father of the Year, and The Wrong Missy.
He's an avid standup comedian and tours regularly, and his latest special, David Spade: Nothing Personal, is streaming on Netflix. He had a short-lived Comedy Central show called Lights Out with David Spade, and he's the co-host of the insanely popular podcast, Fly on the Wall with Dana Carvey and David Spade.
Salma Hayek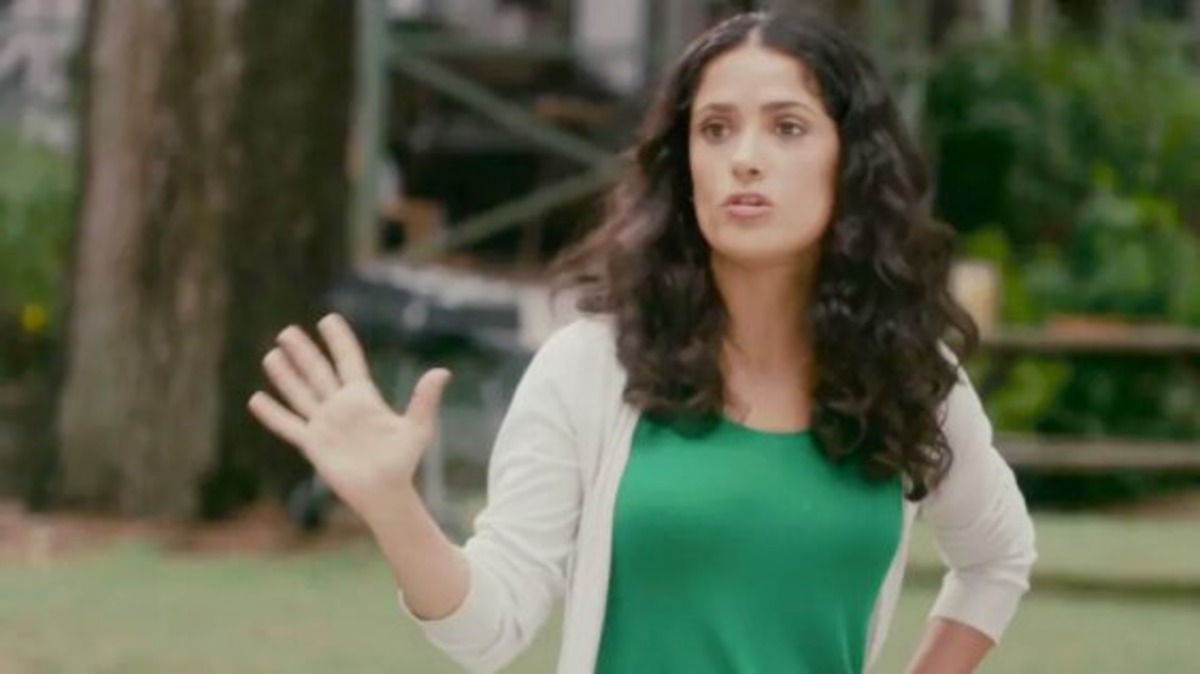 Salma Hayek was one of Hollywood's most in-demand leading ladies through much of the '90s and aughts. By the time Grown Ups came out, she was transitioning from bombshell to more serious roles. She's one of the better leading ladies in any Adam Sandler movie, too.
Recently, she was in the Marvel superhero movie, Eternals, and the weirdly campy House of Gucci. She's also had recurring roles in 30 Rock and Ugly Betty. Her next project is the Angelina Jolie-directed movie, Without Blood.
Chris Rock
Chris Rock has had a crazy year. He was involved with an incident that will go down in history as one of the wildest things to ever happen on live TV. We're of course talking about his role in the infamous Will Smith slap heard 'round the world at last year's Oscars.
As for Rock, he has been touring regularly, and he'll make streaming history when he does the first ever live Netflix standup special on March 4. He's also a prolific actor, appearing in a number of high-profile projects, like Fargo and the very expensive flop, Amsterdam. In 2021, he starred in the Saw spin-off Spiral.
Rob Schneider
Schneider is one of those old Sandler friends from SNL and has probably appeared in more Sandler movies than anyone besides Sandler himself. He was also one of the only cast members of the original Grown Ups to not appear in the sequel.
His film career since has been fairly prolific, with appearances in The Ridiculous 6, Norm of the North, Sandy Wexler, Hubie Halloween, The Outback and Wings, among many more. He also had two TV shows, Rob and The Real Rob.
Lately his political views have been overshadowing his movie career, but that doesn't mean a hit is just around the corner. Showbiz, baby!
Maya Rudolph
The hilarious Maya Rudolph is another Saturday Night Live alum who just happens to be one of the funniest people on the planet. She's been working constantly since Grown Ups, in both animated movies and TV shows.
Her latest project is the Apple TV Plus show, Loot, where she plays a woman who got $87 billion in a divorce and is trying to figure out what to do with it while also finding herself. She received three Emmy nominations for her role on the hit show, The Good Place. Before Loot, she starred in the animated Bless the Harts.
Maria Bello
Maria Bello played Kevin James' wife in the movie, and she's had a prolific TV and movie career since. She had a huge part in NCIS as Jacqueline "Jack" Sloane, and she had recurring roles in projects such as Prime Suspect, Goliath, and Touch.
As for movies, she's appeared in Abduction, McFarland USA, Prisoners, Better Start Running, The Water Man, The 5th Wave, Max Steel, Every Day, and many more. Suffice to say, she's been working.
Tim Meadows
Tim Meadows is, you guessed it, a former SNL cast member. He played Malcolm in Grown Ups, and he's consistently played bit parts in several comedies over the years, including Popstar: Never Stop Never Stopping, Grown Ups 2, and the Amy Schumer hit, Trainwreck.
He lends his voice to many animated shows as well, and he's appeared in TV shows like Bob's Burgers, Son of Zorn, The Goldbergs, and Schooled. He had a role in Brooklyn Nine-Nine as a cannibalistic prisoner, and he regularly performs improv in Chicago and Los Angeles.