Maggie Smith's best movies and TV shows, ranked
88-year-old Dame Maggie Smith has been gracing us with her onscreen presence since the '50s. From Harry Potter to Downton Abbey, she has starred in some of the most-loved — not to mention groundbreaking — shows and movies of our time. So, in honor of Women's History Month, check out 10 of her best onscreen performances that have touched our lives, not to mention TV and film history.
1. Harry Potter
In the well-known and well-loved story of the boy wizard Harry Potter, we see Maggie Smith play Professor McGonagall, the scrappy but lovable rule-following, cat-transforming professor with a heart of gold. While her role in the movie is essential, it is surprising how essential she actually was to Harry Potter as we know it.
According to ET, Maggie Smith, and Daniel Radcliffe worked together on the play David Copperfield. When casting began for Harry Potter, Smith remembered Radcliffe and recommended him for the role. The rest, as they say, is history.
Smith played McGonagall through all eight films with her performance in the final film completing McGonagall's transition from stern matriarch to brave mama bear. She brings a solid performance and a stellar presence to the character — as did the rest of the cast — and apparently the critics agreed as Harry Potter took home more than its fair share of awards, everything from Best Costume Design to Best Leading Young Actress and everything in between.
2. Downton Abbey
Is it just us, or is there just something so comforting about classical British television, rife with high society parties and British accents? Apparently, we are not alone in this thought, as Downton Abbey is one of the most popular shows of our time. The show's storyline follows the Crawley family, a high-society Edwardian England family whose troubles begin with the sinking of the Titanic. The show has gone on for six seasons and includes two feature films.
Maggie Smith plays Violet Crawley, the Dowager Countess of Grantham, the matriarch of the family. Smith gives an unforgettable performance, so unforgettable she won a Screen Actors Guild Award for Outstanding Performance and two Primetime Emmy Awards for Outstanding Supporting Actress. No big deal. She does however exit the show in the second movie New Era, as her character finally succumbs to her ongoing illness.
However, according to an LA Times article, that was always meant to be the case, as Smith who is 88, had only signed on for a few seasons and ended up staying longer than even she had thought. Our sources reveal Maggie Smith was always up for returning to Downton Abbey and we are glad she did because Downton Abbey just would not have been the same without her, which is why we give this groundbreaking series our number two spot.
3. The Best Exotic Marigold Hotel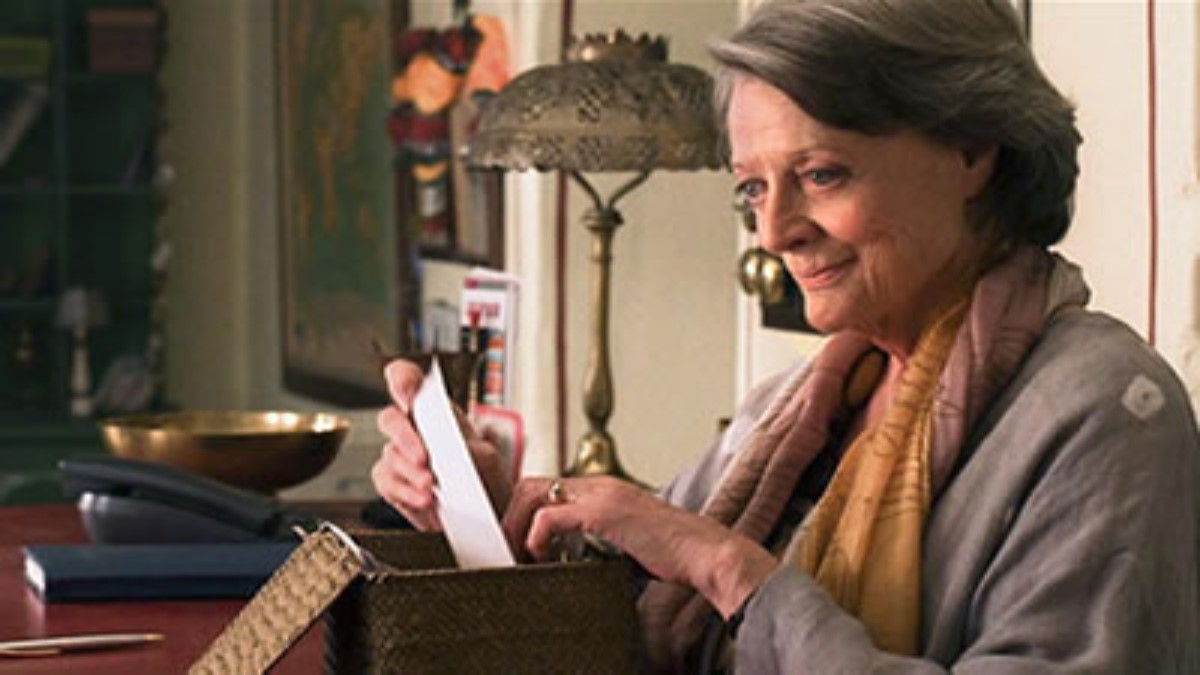 Talk about a feel-good movie; this one won our hearts, not to mention a few awards. The Best Exotic Marigold Hotel tells the tale of a ragtag group that for various reasons find themselves in need of a place to live in their later years. The group finds their way to a hotel in India advertised as a sort of resort retirement community. When they arrive, however, they find it is not as advertised. Run by a young Indian boy named Sonny Kapoor, the rundown hotel is his last-ditch attempt to prove his business prowess to himself and his family. Although initially, the group feels they have nothing in common with each other, by the end of their stay they feel like a family.
Maggie Smith plays Muriel Donnelly – an elderly woman in need of surgery who is less than fond of having it done and spending her recovery in India. A little bit racist and a lot hesitant at the beginning, by the end, she is running the hotel and living her best life. It's a classic coming-of-age story about a group of people who have already come of a lot of age, proving it is never too late to live the life you want. It is another all-star cast including Judi Dench, Bill Nighy, and Penelope Wilton.
The movie was such a hit they even made a sequel, The Second Best Exotic Marigold Hotel. The heartwarming storyline and Smith's character's dramatic transformation assured this movie our number three spot on the countdown.
4. Divine Secrets of the Ya-Ya Sisterhood
Maggie's British accent takes a backseat in this Southern-fried story of a makeshift sisterhood whose friendships have lasted a lifetime. Based on the book by Rebecca Wells, the storyline follows all the hilarious ups and downs of the attempted reunification of an estranged mother and daughter.
The daughter Siddalee Walker, played by Sandra Bullock, is "kidnapped" by the ragtag gaggle of her mother's best friends, known as the Ya-Ya Sisterhood. One of these Steel Magnolias is none other than Maggie Smith who plays Caro Eliza. The movie flashes back and forth from the current day to scenes from Sidda's childhood, while the sisterhood sheds light on some of the events of Sidda's life. The storyline concludes with the group's realization that the secrets of our lives can be a mystery, even to those who think they know us best.
Maggie's performance and humor are once again stand out as the movie was both nominated for and won all kinds of awards including Best Actress for Ashley Judd as young Vivi Walker, and a Prism Award. With an all-star cast of Sandra Bullock, Ashley Judd, Ellen Burstyn, Cherry Jones, and James Garner, it's no wonder this movie spent so much time in the spotlight. Yet for us, no star shone quite as brightly as Maggie Smith's eccentric and scrappy Caro Eliza.
5. My House In Umbria
My House In Umbria starts off with a bang, quite literally. The movie begins on an Italian train, where a terrorist attack causes an explosion that brings a group of strangers together as survivors. The main character, a romance writer named Emily Delahunty, is played by Maggie Smith. Delahunty takes the group of survivors into her home, including the now orphaned young girl Aimee, played by Emmy Clarke, whom she forms a special connection with.
The plot follows the group's journey to recovery and includes the addition of Aimee's stern uncle who comes to retrieve her. Delahunty does what she can to convince him to leave the girl and possibly stay himself. The group bands together in healing and hilarity as they navigate life, love, and the next stages of life. It's a truly heartwarming story with Maggie Smith's role cementing the small group's charm. Based on the book by William Trevor, the storyline won the hearts of fans and critics winning the OFTA Television Award for Best Motion Picture Made for Television and Best Ensemble in a Motion Picture.
Maggie Smith has stolen our hearts once again, and her role in My House In Umbria has stolen our number-five spot.
6. First Wives Club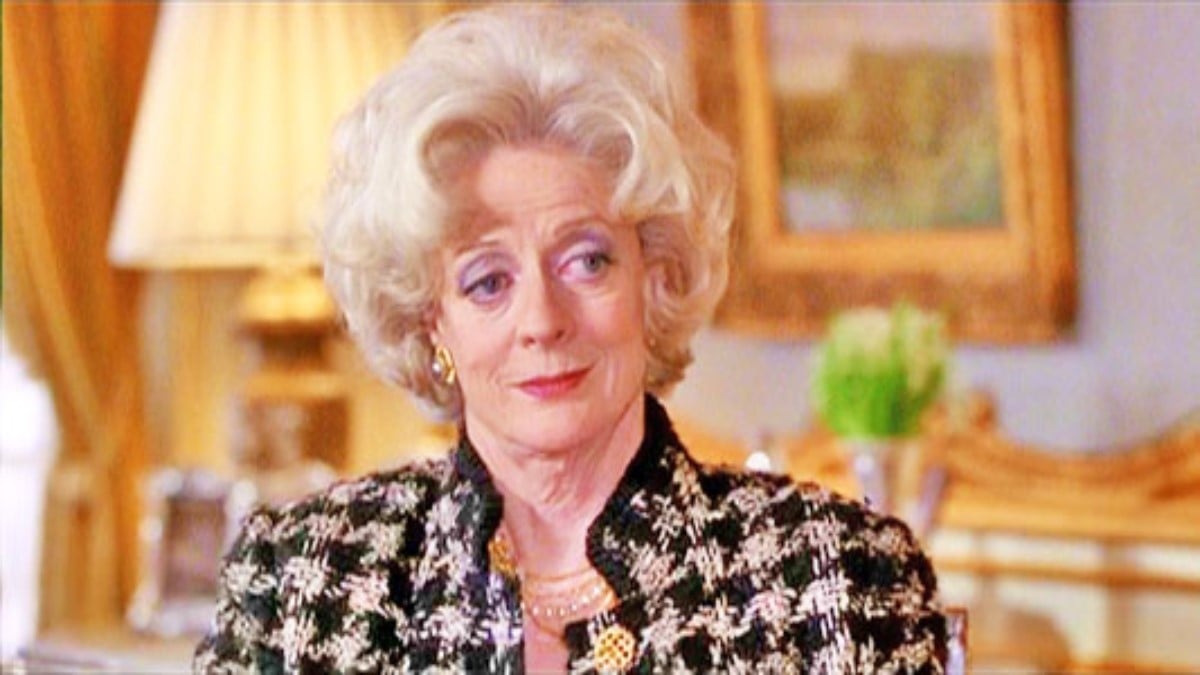 Don't get mad — get even! That's the motto of the First Wives Club anyway. When three former friends find their lives turned upside down by cheating spouses, they decide to get even. In doing so, they enlist the help of another former first wife, and New York socialite, Gunilla Garson, played by Smith, to help them carry out their dastardly deeds. Smith was born to play the socialite role and executes the performance flawlessly and hilariously. It is another all-star cast including Bette Midler, Goldie Hawn, Sarah Jessica Parker, and Diane Keaton.
The movie was an instant success for both fans and critics alike with awards for everything from Best Original Musical Score to American Comedy Awards. Although Smith's role was flawless, she got less screentime in this than most, which is why we only gave it the number six spot.
7. The Secret Garden
Mary, Mary quite contrary, how does your garden grow? If you are Mary Lennox, it grows under the watchful eye of Maggie Smith who plays Mrs. Medlock in the classic The Secret Garden. The movie based on the book by Frances Hodges Burnett follows the story of young Mary Lennox whose sudden plunge into being an orphan leads her to her estranged uncle's doorstep. Mary soon discovers the massive mansion is filled with secrets as she begins to uncover the mysteries the home holds. As she takes solace in a secret garden, she discovers new friends, family secrets, and happiness she never thought possible. It's a heartwarming tale based on a classic, how could it miss?
Smith gives an outstanding performance as Mrs. Medlock, the very strict caretaker of the home and children who before long shows her true colors, a heart of gold beneath that stern exterior. Once again Smith pulls off a character with a lot of layers, playing each aspect with depth and expertise. Smith was nominated for Best Actress in a Supporting Role for this character and the film won Special Achievement Award from the London Critics Film Awards. We have to know, is there anything Maggie Smith touches that doesn't turn to gold?
8. Hook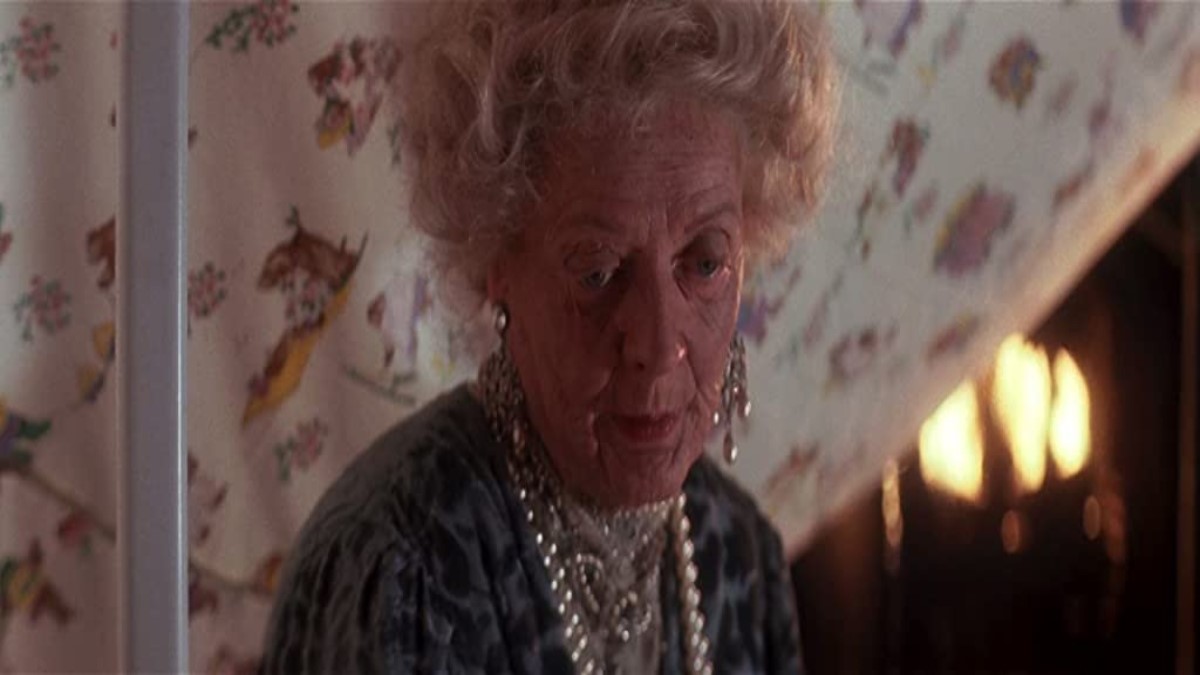 Didn't we all have that one relative growing up? Kind of eccentric, and offbeat, but seemed to remember what it was like to be a kid, more than most adults. That person was Maggie Smith as Granny Wendy in the family favorite Hook. She co-starred with Robin Williams who played Peter, a middle-aged lawyer who had given up his magical roots to become a family man. The storyline follows his return to Neverland after his former nemesis kidnaps his children. His journey includes a reunion with Tinkerbell, played by Julia Roberts, and with Hook himself, played by Dustin Hoffman. It's a star-studded cast, so no wonder it hit the awards charts.
It was even nominated for Best Makeup and with good reason. The then 56-year-old Smith was playing 92-year-old Wendy! She was aged thanks to professional makeup and low lighting. The movie was met with critical acclaim and in no small part due to Smith's memorable performance. However her time in the spotlight in this one was short as the main storyline revolved around Peter, so we could only in good conscience give this one our number eight spot on the list.
9. A Room With A View
In a coming-of-age story for the times where burgeoning sexuality meets high society, A Room With A View is a classic. Based on the book by EM Forster the rendition captures all the essence and appeal of the book while putting a face to the names. Maggie Smith plays proper Charlotte Bartlett, older cousin to young Lucy, played by Helena Bonham-Carter (another Harry Potter alum) as the two travel in Italy.
Soon young Lucy meets foxy, free-spirited George Emerson, played by Julian Sands. The two strike up a summer romance, however upon Lucy's return to England, she must choose between conformity and her conscience as she is torn between her English lover Cecil Vyse and the sudden reappearance of George. All the while, she is being coached by her high society cousin played by Smith, who attempts to keep her in line and teach her the ways of ladyhood.
Maggie Smith won a BAFTA Award for Best Actress in a Leading Role and the film also won an Academy Award for Best Costume Design, and we can see why; the Edwardian English attire is on point! Between the accents and the wardrobe, it certainly takes us back to a simpler time, a time of refinement and civility, which is why this classic is certainly worthy of a place in our countdown.
10. Sister Act
Is there a role Maggie Smith hasn't played? Teacher, mother, sister, witch, nun. If so, we would like to know about it and contact casting right away. Maggie Smith is clearly a woman of many talents, and apparently playing a harsh nun is one of them. In the fan favorite, Sister Act, Maggie Smith plays Mother Superior, the initially icy overseer of the convent whose patience is put to the test with the addition of Deloris, players by Whoopi Goldberg. Goldberg plays lounge singer Deloris Van Cartier who must relocate to the convent after witnessing a murder. While there, she certainly livens up the place, despite Smith's character's disapproval. Yet as in many of her roles, Smith eventually comes around and reveals her soft hearted side while the whole convent gets a new look and sound.
It's certainly a feel-good film and fans thought so too as the movie got a sequel, Sister Act 2. The film also scored some high-profile awards with an NAACP Image Award for Outstanding Actress going to Whoopi Goldberg and a People's Choice Award for Favorite Comedic Movie.
Maggie Smith is a British treasure and we thank her for her many years of service to making both film and TV history. From Harry Potter to Downton Abbey and everything in between, we have loved watching her perform. So here's to Maggie Smith, and to many more years of movie magic!
About the author