Did 'Rick and Morty' co-creator Dan Harmon sexually harass one of his 'Community' writers?
On Jan. 12, news broke that Rick and Morty co-creator Justin Roiland was facing felony domestic violence charges against an unnamed Jane Doe from a relationship that occurred in 2020. Roiland has vehemently denied the allegations through his legal team, pleading not guilty in court, and taking aim at the media for portraying the situation incorrectly.
The accusations have unsurprisingly been met with a great deal of concern for all involved, and inevitably led to renewed scrutiny being placed on Roiland's colleague and the other half of Rick and Morty's parentage, Dan Harmon, for a historic incident.
What happened between Dan Harmon and Megan Ganz?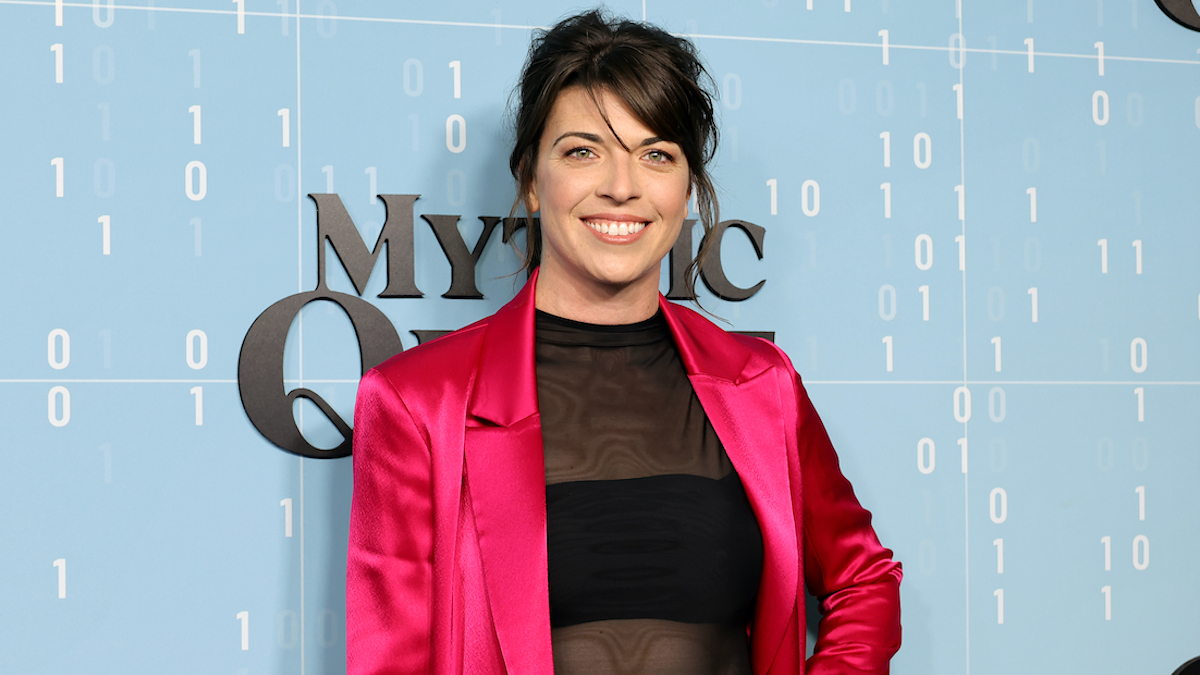 In the wake of the #MeToo movement that gained steam in 2017, hundreds of sexual harassment allegations were unearthed among men in positions of power. Among them was Harmon, who, in addition to co-creating Rick and Morty, also created and produced the popular NBC/Yahoo! Screen sitcom Community.
On the last day of 2017, Harmon published a now-deleted Twitter post in which he said, "This was truly the Year of the A**hole. Myself included," and addressed his hope for a better 2018.
Before long, Megan Gaz, who'd been a staff writer with Harmon on Community and has since gone on to executive produce It's Always Sunny in Philadelphia, replied, "Care to be more specific? Redemption follows allocution."
In a surprising turn of events, Harmon and Ganz exchanged a public dialogue in which Harmon confessed to treating Ganz "like garbage." He said, "I'm filled with regret and a lot of foggy memories about abusing my position, treating you like garbage. I would feel a lot of relief if you told me there was a way to fix it. I'll let you call the shots. Til then, at least know I know I was an awful boss and a selfish baby."
Ganz's memory, on the other hand, was crystal clear. "I wish my memories were foggier," she wrote. "I wish there was a way to fix it. It took me years to believe in my talents again, to trust a boss when he complimented me and not cringe when he asked for my number. I was afraid to be enthusiastic, knowing it might be turned against me later."
After more back and forth in which Harmon apologized, and Ganz didn't let him off the hook that easily, Harmon brought up the issue on his podcast a week later, addressing the topic at length. After it aired, Ganz accepted his apology in a now-deleted Twitter post and called it a "masterclass in How to Apologize."
"Please listen to it," she wrote, referring to Harmon's podcast. "It's only seven minutes long, but it's a masterclass in How to Apologize. He's not rationalizing or justifying or making excuses. He doesn't just vaguely acknowledge some general wrongdoing in the past. He gives a full account.

"Yes, I only listened because I expected an apology. But what I didn't expect was the relief I'd feel just hearing him say these things actually happened. I didn't dream it. I'm not crazy. Ironic that the only person who could give me that comfort is the one person I'd never ask.

"This was never about vengeance. It was about vindication. That's why it didn't feel right to just accept his apology in private (although I did that, too). Because if any part of this process should be done in the light, it's the forgiveness part. And so, @danharmon, I forgive you."
In an interview with The New York Times, Ganz went on to say, "After I listened to his apology, I sent Dan a text to thank him and forgive him without reservation. Then I wrote what I wrote on Twitter, because it felt strange to do the confrontation in the light, but the forgiveness in the dark. People should see the good that can happen when you aren't afraid to accept responsibility for your mistakes. He gave me relief, and I hope I was able to give him some in return."
Dan Harmon's full apology to Megan Ganz
"I was attracted to an employee. I really want to be really careful about that language because a huge part of the problem is a culture of feeling things that you think are unique and significant because they are happening to you and saying things like 'I had feelings for' and 'I fell for' and all these things. The most clinical way I can put it in fessing up to my crimes is that I was attracted to a writer I had power over because I was a showrunner, and I knew enough to know that these feelings were bad news.

"That was easy enough to know. I knew that they ran the risk of undercutting people's faith in my judgement, her faith in her talent, the other writers' respect for me, the entire production, the audience. I knew I wasn't doing anybody any favors by feeling these things, and so I did the cowardly, easiest, laziest thing you can do with feelings like that and didn't deal with them and in not dealing with them I made everybody else deal with them, especially her. Flirty, creepy, everything other than overt enough to constitute betraying your live-in girlfriend who you're going home to every night, who is actually smart enough and respectful enough to ask you, 'Do you have feelings for that young writer that you're talking about, that you're paying all this attention to?' and saying to her, 'No,' because the trick is if you lie to yourself, you can lie to everybody. It's really easy.

"And so that's what I continued to do, telling myself and anybody that threatened to confront me with it that if you thought what I was doing was creepy or sexist or unprofessional it was because you were sexist or jealous. I was supporting this person. I'm a mentor. I'm a feminist. It's your problem, not mine. You're the one who actually is seeing things through that lens.

"And so I let myself keep doing it, and it's not as if this person didn't repeatedly communicate to me the idea that what I was doing was divesting her of a recourse to integrity. I just didn't hear it because it didn't profit me to hear it, and this was, after all, happening to me, right? After a season of playing it that way, I broke up with my girlfriend, who I had lied to the whole time, while lying to myself. Lied to her about why I was breaking up with her because I thought that would make having inappropriate feelings for a co-worker appropriate if I wasn't involved.

"I want you to be the one to examine this, and every step of the way decide for yourself where I'm making mistakes. I don't want to explain to you what I've learned. I want you to look at this, and I want it to sound relatively unremarkable to you because that's the danger. I broke up with my girlfriend, and then I went right full steam into creeping on my employee. Now it was even less appropriate, after all. Now I wasn't in danger of being a bad person. After that season, I got overt about my feelings after it wrapped. I said 'I love you,' and she said the same thing she had been saying the entire time, in one language or another, 'Please, don't you understand that focusing on me like this, preferring me like this, liking me like this, I can't say no to it, and when you do it, it makes me unable to know whether I'm good at my job.'

"And because I finally got to the point where I said to her 'I love you,' because that's what I thought it was when you target somebody for two years. And it was therefore rejected that way, I was humiliated. So, I continued to do the cowardly thing. I continued to do the selfish thing. Now I wanted to teach her a lesson. I wanted to show her that if she didn't like being liked in that way then, oh boy, she should get over herself. After all, if you're just going to be a writer then this is how 'just writers' get treated. And that was probably the darkest of it all. I'm going to assume when she tweets about it and refers to 'trauma' that's probably it. I drank. I took pills. I crushed on her and resented her for not reciprocating it, and the entire time I was the one writing her paychecks and in control of whether she stayed or went and whether she felt good about herself or not, and said horrible things. Just treated her cruelly, pointedly, things I would never, ever would have done if she had been male and if I had never had those feelings for her.

"And I lied to myself the entire time about it. And I lost my job. I ruined my show. I betrayed the audience. I destroyed everything, and I damaged her internal compass. And I moved on. I've never done it before and I will never do it again, but I certainly wouldn't have been able to do it if I had any respect for women. On a fundamental level, I was thinking about them as different creatures. I was thinking about the ones that I liked as having some special role in my life, and I did it all by not thinking about it. So, I just want to say, in addition to obviously being sorry, but that's really not the important thing, I want to say I did it by not thinking about it, and I got away with it by not thinking about it. And if she hadn't mentioned something on Twitter, I would have continued to not have to think about it, although I did walk around with my stomach in knots about it, but I wouldn't have had to talk about it.

"The last and most important thing I can say is just think about it. No matter who you are at work, no matter where you work, in what field you're in, no matter what position you have over, under, or side-by-side with somebody, just think about it. Because if you don't think about it, you're going to get away with not thinking about it, and you can cause a lot of damage that is technically legal and hurts everybody.

"And I think we're living in a good time right now because we're not gonna to get away with it anymore. If we can make it part of our culture that we think about it and possibly talk about it, then maybe we can get to a better place where that stuff doesn't happen.

"So that's it. Please don't hurt her. Please don't make this worse on anybody but me."
If you are experiencing domestic abuse, or if you believe someone you know is being abused, contact The National Domestic Violence Hotline. The hotline can be reached at 1-800-799-SAFE or spoken with online via the hotline's website. Mobile phone owners can also text "START" to the number 88788.