Meg Ryan has had an inconsistent career, with both glorious highs and worrisome lows that made some wonder whether her career would recover. However, we can say that it's not yet Ryan's time to retire from the industry. Recently the trailer for What Happens Later dropped, a movie about giving a past flame a second chance — at the airport no less — which has the actress both in front of and behind the camera and her fans are glad to see her return. "This made me drop a tear, it is amazing to watch Meg Ryan back. I'm gonna watch this with my mom." Wrote a fan on the trailer's comment section, a sentiment that is shared by many others.
Ryan made her way to the peak of fame in the '90s when she starred in many genre-defining romantic comedies like Sleepless in Seattle, When Harry Met Sally…, and You've Got Mail. After watching these memorable movies, one cannot help but be surprised when finding out Ryan had once said that acting was not in her nature. She went on to elaborate on this notion in a BBC interview: "It always feels very awkward for me to be in front of an audience or in the spotlight, it doesn't come all that naturally."
Since the late 1990s and early 2000s, Ryan's beauty has also not come in an unequivocally natural way. Or rather, she — like countless others in her industry — took steps to try to preserve her youth. It is no secret that the actress has had multiple cosmetic procedures done over the years. Here's what she looked like prior to her first surgery and in more recent times.
What happened earlier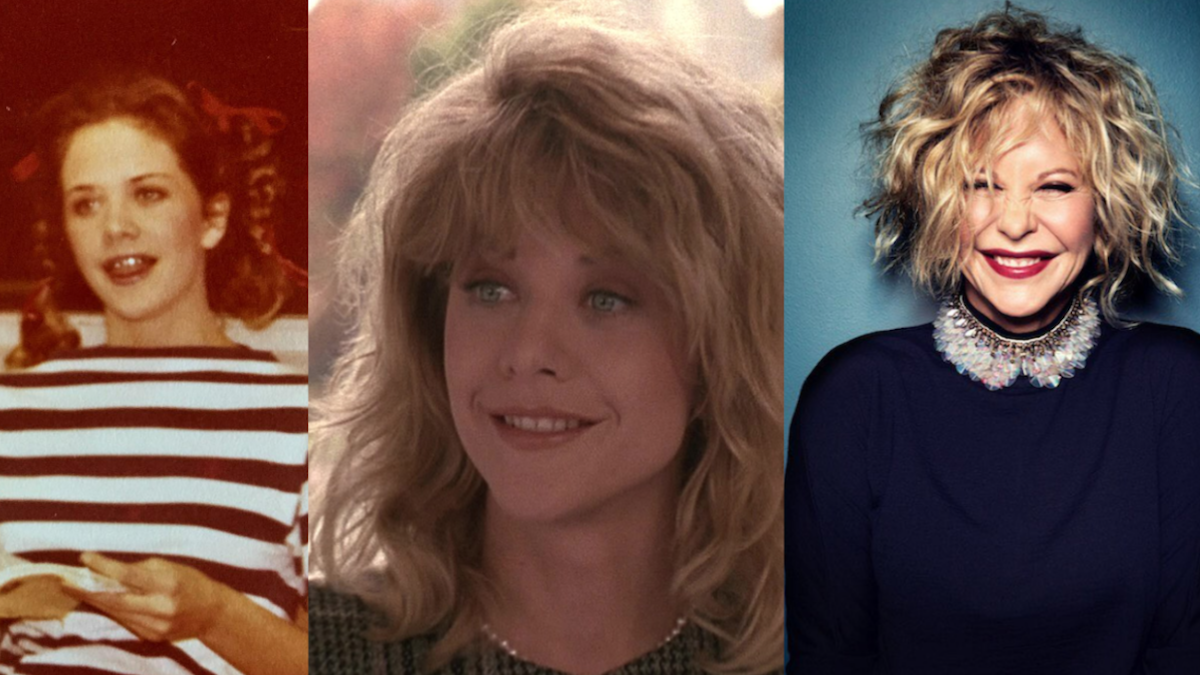 Back in May 2023, Meg Ryan appeared in public after not having been photographed for over a year. The blue-eyed actress had managed to stay out of the limelight and focused on her private life, something no one could judge her for. It's plain to tell from interviews and the way she talks about her children that Ryan is a dedicated mom, and not only that, she's also a person — shocking, I know — which means she has her limits like everybody else.
In an insightful 2019 interview with The New York Times, Ryan was very sincere about the fact that her relationship with Hollywood was never uninterruptedly sunshine and rainbows. She revealed that at the time her son Jack Quaid graduated high school – the actor is now in his early 30s – she felt burned out and as a result made the decision to move from Los Angeles to New York City to focus on herself and her family. She also said that her evasion from the glare of the spotlight "was never about people being mean; it's that I couldn't move. I would sort of duck and cover, and that wasn't what I wanted." Perhaps that's so, but it also must have been a slippery slope to become America's sweetheart, be admired for one's looks but also scrutinized for the same, and manage to remain wholly impervious to each and every comment.
One of the reasons for her momentary divorce from Hollywood may be how insensitive and judgmental people can be — in particular when it comes to the appearance of celebrities — something which tends to be dissected to the most minuscule detail. Just because someone is famous it doesn't mean anyone should have free rein to try to bring them down when they've done nothing wrong. Even if you think someone did something they shouldn't have done to their appearance, that's not a free pass for anyone to cast stones – which people did when Ryan appeared in May, as already mentioned, next to her fellow actor and friend Michael J. Fox at the screening of his documentary. Multiple outlets — including foreign ones — said she was 'unrecognizable' and, unsurprisingly, some netizens took it even further, and meaner.
It's true, Ryan has had work done, it does not take an expert to see that. However, the way some people react just goes to show the importance our society places on appearance, and this systemic defect can be a great impelling force for people to consider undergoing surgery to change or preserve their youthfulness in the first place. It's a cycle. My earnest opinion is that Meg Ryan is still beautiful, at over 60 years of age, and with multiple procedures done since her 30s. I think it's the warmness of her expression, the way her eyes and mouth smile, that most contribute to her beauty.
If you're nevertheless interested in an expert's point of view, a deeper dive into the exact procedures Ryan may have done and what year they took place, Doctor Gary Linkov, a board-certified plastic surgeon, has the video for you. It is both objective and informative and based on his knowledgeable speculation – which is still speculation, as informed as it is. It should satisfy your curiosity about how the Sleepless in Seattle actress has looked over the years.
Ryan's What Happens Later premieres in theatres on Oct. 31, 2023.