The 10 best Neal Adams comic book covers of all time
The comic book world mourned the loss of a giant when Neal Adams passed away at the age of 80. Adams was known for being a tremendous artist, for his collaborations with writer Dennis O'Neil, and for his fight to get credit and remunerations for Superman creators writer Jerry Siegel and artist Joe Shuster.
Adams began working for DC Comics in 1967 when he became the artist for Strange Adventures drawing Deadman. In the early 1970s, Adams paired up with Dennis O'Neil where they worked on Batman, and Green Lantern/Green Arrow which was a more mature book than most at the time with a focus on social issues. In 1971 the pair also created the Green Lantern John Stewart, who was DC's second black superhero.
Adams went on to do great work in both Marvel and DC Comics, with both interior and cover art for years. His final published work as a comic book artist was Fantastic Four: Antitheses with writer Mark Waid. Adams was inducted into the Will Eisner Comic Book Hall of Fame in 1998 alongside Mœbius, Joe Kubert, and Archie Goodwin.
A number of artists, writers, and giants in the comic book world took to social media to celebrate Adams' work, a body of which can only cement Adams as a titan of the comic book industry. So, in honor of Neal Adams, and the many pieces of art that came from his prolific time as a comic book artist, let's take a look at the best comic book covers that Neal Adams ever produced. 
The Phantom Stranger Vol. 2 #13 and #14
Neal Adams drew several covers for The Phantom Stranger Vol. 2, but issues #13 and #14 are standouts. Issue #13 depicts a creepy image of a boy shooting a scientist with finger guns, something reminiscent of The Twilight Zone. Written by Robert Kanigher, the Phantom Stranger investigated a boy who could kill people with his fake gun, and he turned out to be a mutant who could kill people with his mind. 
The second issue, #14, depicts Swamp Thing intruding on a picnic with the Phantom Stranger featured. It's remarkable how Adams made Swamp Thing blend in with the background while making the character a towering and terrifying figure at the same time. Both issues were released in 1971, with #14 written by Swamp Thing creator Len Wein who passed away in 2017. Swamp Thing was created earlier that year, first appearing in House of Secrets #92 in July of 1971. 
Green Lantern Vol. 2 #76 and #87
Green Lantern Vol. 2 #76 started what would be perhaps the most famous run of Adams' career. Commonly referred to as "Hard-Travelling Heroes", this issue was Adams' start on Green Lantern/Green Arrow with writer Dennis O'Neil, who passed away in 2020. The cover depicts Green Lantern reciting his oath while Green Arrow destroys his lantern, enveloped by the green light released by it. The issue tackled social injustice, with an elderly black man pointing out that Hal Jordan helps everyone in the galaxy, except for black people. 
Adams and O'Neil would then go on to create the second black superhero for DC Comics later in the same run in issue #87. John Stewart was introduced as Green Lantern, and he has remained a popular character even now as he was almost included in Zack Snyder's Justice League. The cover which featured Stewart holding Hal Jordan's defeated body is also quite striking and fits well with the first appearance of the character. 
Green Lantern Vol 2. #85
One of the most historic comic book covers ever to reach print, Green Lantern Vol. 2 #85 depicts Green Arrow's sidekick, Speedy, in the throes of drug addiction after having used a needle to shoot up heroin. The shock on Green Arrow's face is legendary, and the depiction of the needle caused controversy at the time. 
The story dealing with drug abuse was relevant in 1971 when the book was released and has remained relevant throughout the years. In fact, Adams paid himself homage when he revamped the Green Lantern cover for a variant cover of Batman/Superman Vol. 1 #29 which was written by Tom Taylor. It depicts Batman watching in horror as Robin has the needle and Superman watches on. 
Superman Vol. 1 #233
Another one of Adams' most famous works, is the cover of Superman Vol 1. #233, which depicts Superman breaking out of chains that shatter off of the page. This issue was also written by Dennis O'Neil and featured Kryptonite rendered useless for a time, which is why Superman breaks out of Kryptonie infused chains, an image of the Man of Steel that is quite hard to beat.
The cover is quite iconic, so Adams recreated the image for the variant cover for Incredible Hulk Vol. 3 #1, which featured Hulk breaking out of similar chains. Of course, to match the Hulk's larger body the chains are much larger as well. 
Superman vs. Muhammad Ali
The Superman vs. Muhammad Ali cover is definitely one of the more iconic covers drawn by Adams. Featuring Superman and famous boxer Muhammad Ali facing each other in the ring, this brilliant wraparound cover features many famous faces – celebrities, public figures, comic book writers, artists, editors, and characters – in the crowd. These include The Beatles, Christopher Reeve, Frank Sinatra, Orson Welles, President Gerald Ford, Don King, Dennis O'Neil, Joe Shuster, Jerry Siegel, Lex Luthor, Batman, and Adams himself.  
Tomb of Dracula Vol. 1 #1
Adams produced the cover art for this first issue of Marvel's Tomb of Dracula, written by Gerry Conway with pencils by Gene Colan. This work exhibits exactly what was great about most of Adams' covers, with Adams showcasing his ability to provide depth masterfully in this portrayal of Dracula looming over a woman's body in the foreground surrounded by smoke, with Dracula's castle sitting in the background as the body almost points at it, drawing the viewers attention to the architecture in the back. 
X-Men Vol. 1 #58 and #63
Adams blessed us with more than a few X-Men covers in his time, but issues #58 and #63 of X-Men Vol. 1 stand out. Issue #58 was written by Roy Thomas and featured the first appearance of Havok, who appears on the cover as a large figure with his body surrounding the X-Men who are in a dome. Again, Adams draws your attention to the X-Men in the middle of the page, while Havok takes up the rest of the space. 
Issue #63 was also written by Roy Thomas and the cover saw the X-Men fallen in defeat before Magneto. Adams draws the viewers attention to the lines depicting the blinding light emanating from Magneto's created mutation. Adams' illustration of Magneto's triumphant pose is also done well, especially next to the kneeling and struggling mutants. 
Batman Vol. 1 #232 and #244
Adams produced many outstanding Batman covers, but his run with Dennis O'Neil that introduced Batman villain Ra's Al Ghul is definitely a standout. The first great cover is issue #232 of Batman Vol. 1, in which a panicked Batman reacts to Robin getting shot with the shooter not on the page. What really stands out is how Adams introduces Ra's Al Ghul in his first appearance, with the villain consuming the page in green smoke, exactly as menacing and all-consuming as we come to know Ra's Al Ghul over the years. 
Adams also produced a similar wraparound for the collected edition of this run often titled Batman: Tales of the Demon. This time Batman is distressed on the cover, kneeling over Robin's dead body with Ra's looming in the background like a puppeteer.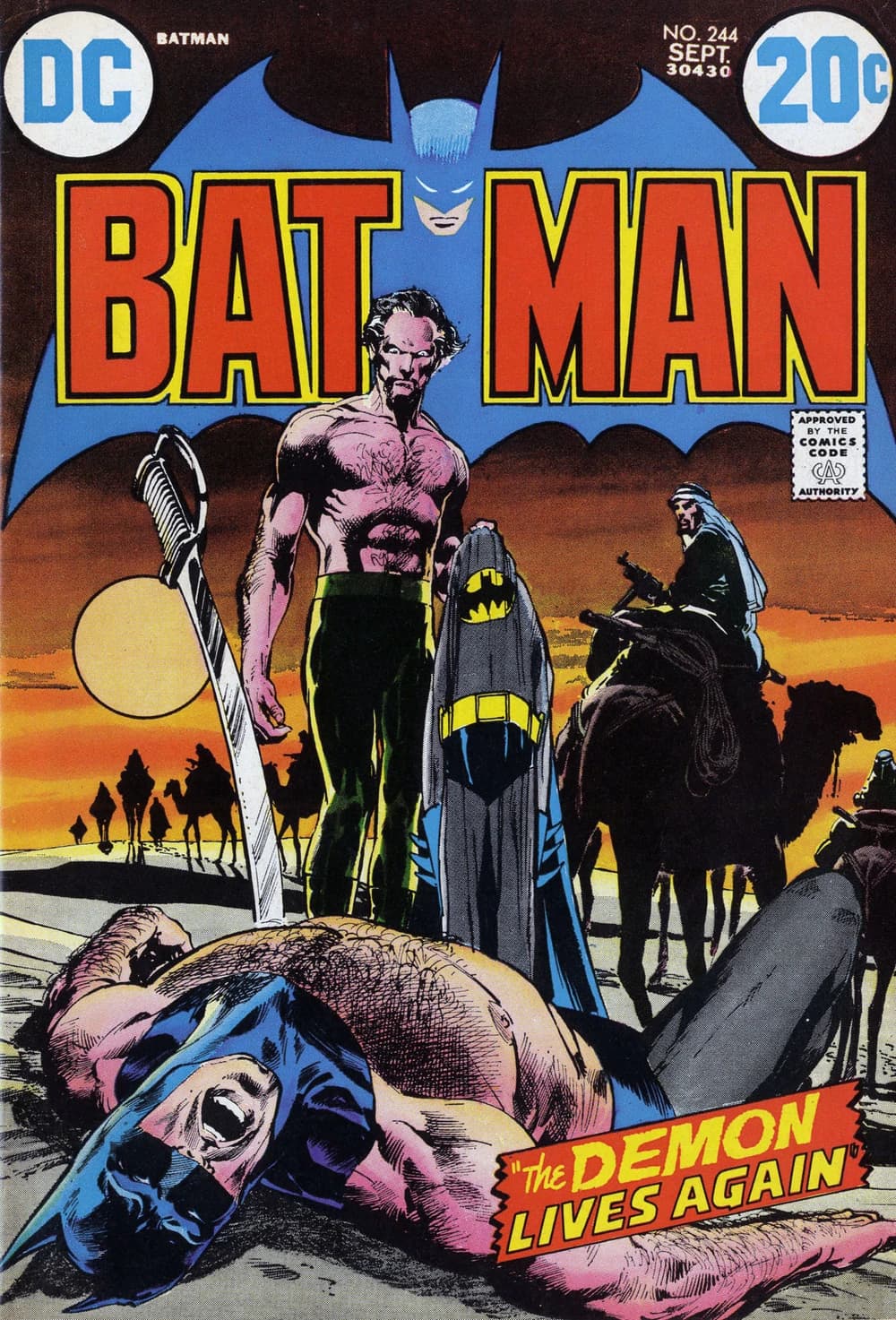 The next cover Batman Vol.1 #244 is iconic for a few reasons, but there is one that stands out: Adams drew Batman with a hairy chest, with his suit off, cowl on, and a sword pointing out of him. There is something very raw and human about Batman with a hairy chest in the desert with Ra's holding his costume. The cover tells a great story, one you would definitely want to read. 
Batman Vol. 1 #227 and #234
Two more covers from Adams' and Dennis O'Neal's run on Batman – Batman Vol. 1 issues #227 and #234 – also stand out. Issue #227 combines a few of the things we have seen Adams do in some of the other covers, with Batman looming over the cover in smoke, lit by the moonlight with a mansion reminiscent of Dracula's castle beneath him.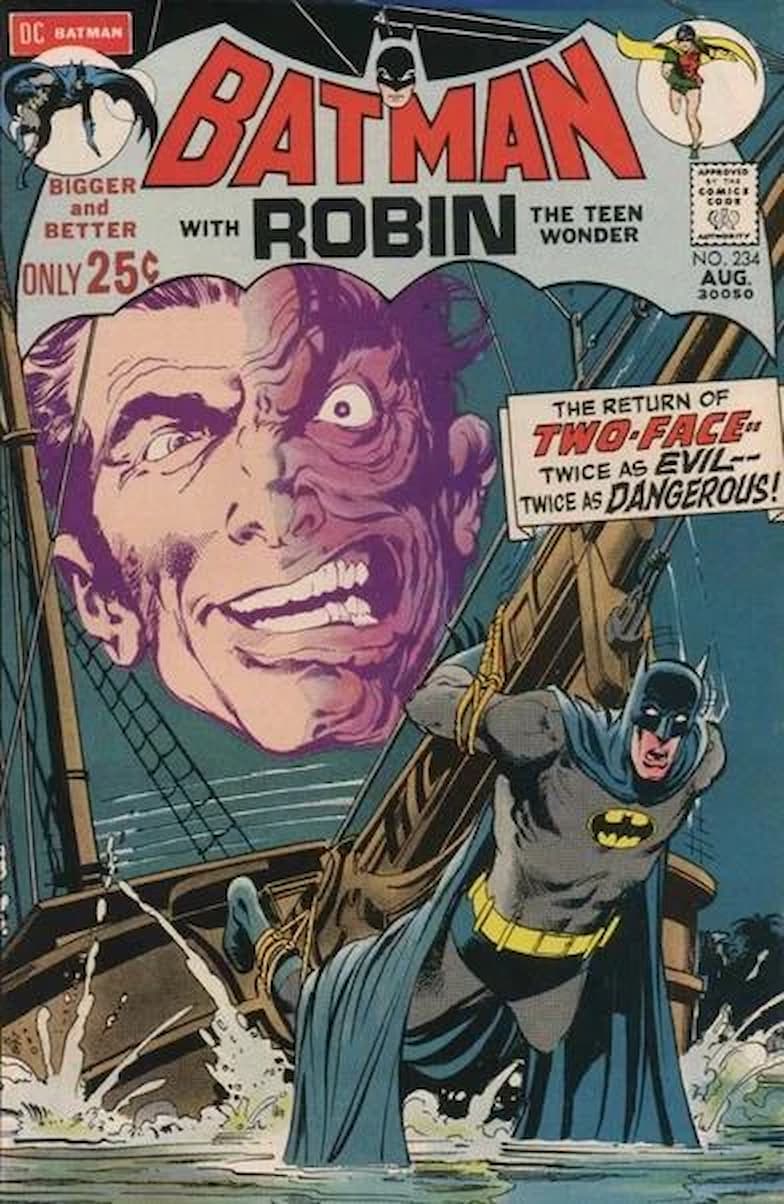 The second cover, Batman Vol. 1 #234, features Two-Face's menacing disembodied head in the background while Batman is hoisted to a ship as if he were a figurehead. Batman has a terrified look on his face and the title of the comic, which is in the shape of a bat symbol, almost takes the place of the sail of the ship. This is just another example of a great idea and a great artist coming together to make the cover pop. 
Adams revamped this cover years later for The Joker Vol. 2 #3. This variant cover swapped out Two-Face for Bruce Wayne wearing half a Batman cowl, with the Joker and his laughing fish as the figurehead. 
Batman Vol. 1 #251
Arguably the most famous Neal Adams cover of all time, the cover to Batman Vol. 1 #251 is iconic. It seems ridiculous that it took 251 issues before this idea was done for a cover, Batman on a giant playing card with the Joker towering behind him. This cover in particular, maybe along with Superman Vol. 1 #233, had been merchandised more than Adams' other covers, whether it be as a poster or a shirt. The cover also manages to encapsulate how the Joker terrorizes Gotham as he is quite large, taking up most of the cover.
Even though Neal Adams has passed away, his art will make sure he remains unforgotten by his fans. There are so many great covers that he will be remembered for, so maybe go by your local comic book store and ask if they have any Neal Adams books or a poster of some of these amazing covers.
About the author