After 'The Last of Us' here are all the upcoming PlayStation Productions projects
Video game adaptations have a famously poor reputation. Stinkers like Assassin's Creed, Hitman, and Need for Speed have done the genre no favors whatsoever, and critics greet the latest game-to-big-screen blockbusters with weary resignation. PlayStation Productions is Sony's attempt to right this ship.
Formed in 2019, the studio is focused on turning the vast array of Sony-owned video game IP into movies and TV shows. They made their debut last year with Uncharted, which overcame tepid reviews to gross four times its budget. Ears have really pricked up with HBO's The Last of Us. It has already cemented itself as the best show currently on television as it brings Naughty Dog's brutal post-apocalyptic adventure to live action in considerable style.
There's a lot more on the way from PlayStation Productions, so here's a full run-down of what's coming soon.
Gran Turismo
Polyphony Digital's long-running racing game franchise has been a mainstay on Sony consoles since 1997. It has a hard-won reputation for graphical excellence, an obsessive focus on car simulation, and pushing technological boundaries. One thing it's not known for is a gripping story. Eyebrows raised when Gran Turismo was greenlit, to be directed by District 9 and Elysium's Neil Blomkamp. The story will follow a teenage Gran Turismo player with ambitions of becoming an actual race car driver. The shoot wrapped in December 2022, and the movie is now in post-production ahead of its Aug. 11 release date.
We recently got a "sneak peek" at the movie, and a trailer can't be far behind. As the game essentially provides a blank slate as far as a story goes, we're very curious to see how it turns out. Whatever the case, we're sure Blomkamp will deliver some amazing racing scenes, so the project at least has that going for it.
Days Gone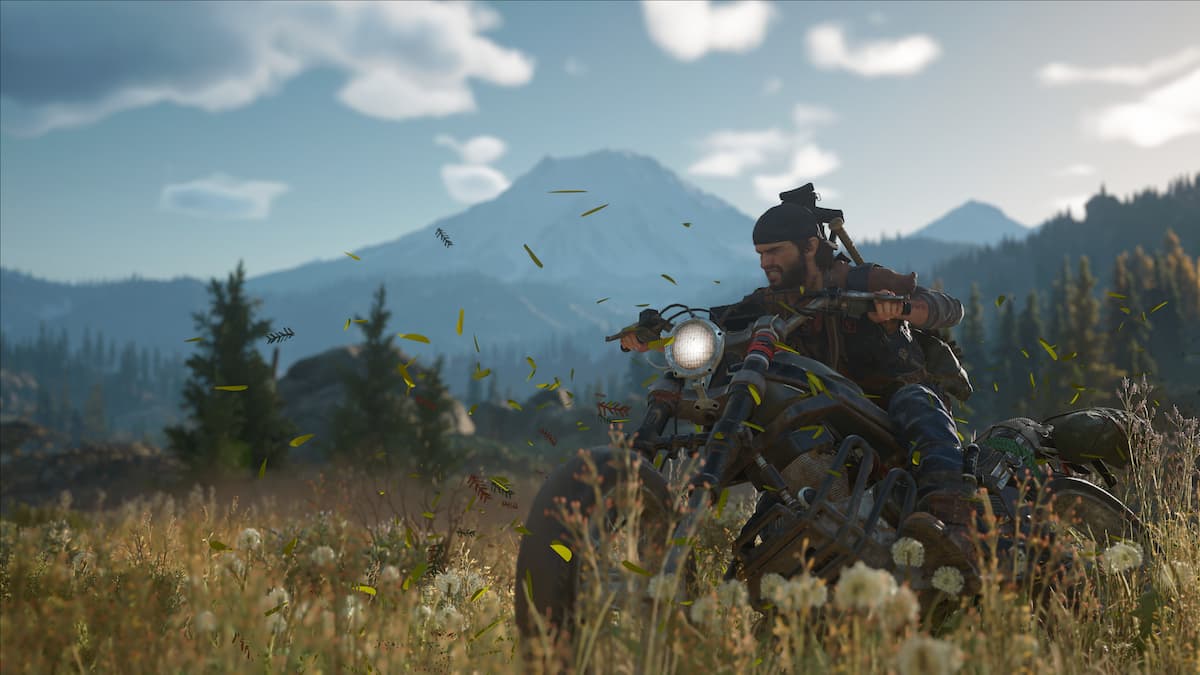 Bend Studios' Days Gone didn't hit the heights of previous Sony first-party releases. Its biker-centered zombie survival action has since picked up a cult following now that it's widely available on PlayStation Plus and has been ported to PC. Development of a film adaptation is currently underway, with PlayStation Productions teaming up with Vendetta Productions, and Outlander star Sam Heughan is set to star as Deacon St. John.
We liked but didn't love the game, though the gigantic hordes of Freakers (zombies) should make for a good big-screen visual. Further details are somewhat unclear, though it appears the shoot will begin later this year meaning it'll debut in 2024/25.
Ghost of Tsushima
Sucker Punch Productions' 2020 samurai epic Ghost of Tsushima was widely lauded on release for its gripping story, fun combat, and bundles of Kurosawa-inspired style. The game already takes heavy cues from cinema, which makes it an easy choice to adapt to the big screen. In October 2021, PlayStation Productions announced that it was in development.
John Wick director Chad Stahelski is directing, with Only writer/director Takashi Doscher on script duties. Beyond this, we don't know much, but presumably casting is already underway to find someone to play Jin Sakai, and we expect a brutal and austere samurai epic. Questions remain over a U.S.-produced samurai movie so steeped in Japanese history, though the game was warmly received in Japan. As long as the filmmakers stick closely to that, it should work out. Expect a release in 2025.
Gravity Rush
While all the games we've mentioned have been monster hits, Gravity Rush is something of a slow burner. The game was originally released in 2012 on the PlayStation Vita (RIP), though it was remastered for PlayStation 4, and the sequel Gravity Rush 2 landed in 2017.
The game stars Kat, a mysterious woman with powers to manipulate gravity, allowing her to walk on walls and fly through the air. Though not a huge seller, the game was praised for its imaginative gameplay, strong aesthetics, and great soundtrack. Clearly someone at PlayStation Productions is a fan, as they've tapped Scott Free Productions and director Anna Mastro to bring it to the silver screen.
We're not sure exactly what to expect from a Gravity Rush movie, though we have a hunch that it'll be a smaller-scale project than the above blockbusters. There's no word on a production start date, so we may be waiting a while.
Jak and Daxter
Naughty Dog's beloved PlayStation 2 platformer franchise has been dormant since 2009's PlayStation Portable release, Jak and Daxter: The Lost Frontier. The first three mainline games were collected in an excellent HD remaster set that's available on PlayStation 4 and 5.
In February 2022, it was confirmed that Uncharted director Ruben Fleischer would be working on Jak and Daxter with developers Naughty Dog, but we haven't heard any news since. Smart money says this will be an animated feature rather than live-action, and a resurgence of interest in the franchise may mean that we also get a new game.
Don't expect original developers Naughty Dog to take the reins. They've since moved onto more brutal territory with The Last of Us and are currently working on a mysterious new title. Either way, we'd be very happy to see Jak and Daxter finally return to the spotlight for a new generation.
Twisted Metal
It's been eleven years since Twisted Metal last appeared on a Sony console, with the 2012 game (confusingly titled Twisted Metal) marking something of a return to form for the long-running car-combat franchise. Fans will be hoping that the incoming TV show revitalizes interest in the games for the PlayStation 5.
The MCU's new Captain America, Anthony Mackie, will play John Doe, a driver tasked with delivering a package across a post-apocalyptic America while being pursued by a gang of bizarre opponents out for blood. Professional wrestler Samoa Joe and Will Arnett will provide the body and voice of killer clown Sweet Tooth, with Neve Campbell, Thomas Haden Church, and Stephanie Beatriz also in the supporting cast.
The shoot took place in mid-2022 and wrapped that summer. The show is expected to debut on Peacock later this year. We suspect we'll get a trailer and release date soon.
Horizon
Guerilla Games' Horizon Zero Down and Horizon Forbidden West have been huge hits for Sony, with its combination of future Vikings, a barely recognizable distant future, and armies of robot dinosaurs making for a dazzling technical showcase. In May 2022, it was confirmed that PlayStation Productions and Netflix are teaming up on the TV show based on the games. The Umbrella Academy's Steve Blackman will serve as showrunner.
Production is currently underway under the title, Horizon 2074, which may indicate that this is a prequel show that'll show the downfall of humanity long before the events of the game. However, as it's been confirmed that heroine Aloy will feature, there must be at least some futuristic elements to the show (we would riot if there's not a robot T-Rex).
The shoot began in August 2022 in Toronto and is expected to wrap in late March, meaning this could potentially arrive on Netflix in late 2024.
God of War
Santa Monica Studios' God of War series is one of Sony's biggest franchises. The recent God of War: Ragnarok was met with universally positive reviews and delighted players. Soon after its release late last year, PlayStation Productions announced that they were teaming up with Amazon Prime Video to bring Kratos' story to streaming.
Right now, details are thin on the ground, though it seems the story will be based on the Norse mythology seen in the most recent games. All developments on this will be carefully scrutinized, specifically on who's cast as Kratos. Christopher Judge has made the role his own in the games, but can anyone really fill his shoes in live action?
The series is being written by The Expanse's Mark Fergus and Hawk Ostby, with The Wheel of Time's Rafe Judkins as showrunner. It's very early in development, though we're hopeful Amazon will rush this through production, so we may see it in 2025.
The future?
PlayStation Productions seem determined to bring as many of their key franchises onto the big and small screens as possible, so expect more announcements over the year. Though most of their heavy-hitters are already confirmed, we'd kill to see movies based on futuristic racer WipeOut, a resurrection of the long-planned Shadow of the Colossus movie (as well as ICO), and why not toss in an Ape Escape animated movie while they're at it?
We'll keep this article updated with every new announcement, but from this lineup alone, it's clear PlayStation Productions has sky-high ambitions. Whether all (or any) of these movies and TV shows can hit the heights of The Last of Us remains to be seen, but Sony appears to be adamant that if their properties are going to get adapted, it's going to be done right.