The messiest love triangles in 'Too Hot to Handle' — so far
One of the most interesting aspects of a show like Too Hot to Handle is the fact that there are so many opportunities for romantic relationships to develop between people. The premise is to trick young, unattractive singles into thinking they're participating in a reality show where they'll be free to hook up with whoever they want in the most meaningless ways.
They get to spend time on a gorgeous island, living in a resort-style mansion next to beaches with luxurious pools and comfortable furniture. Ultimately, they are not allowed to break any rules by giving each other any affection. The show is intriguing enough, especially since it has such rigid rules in place –– but the messy love triangles that are incorporated make it even more addictive and binge-worthy. So, let's take a look at some of the messiest love triangles from Too Hot to Handle season 4.
The love triangle between Kayla, Nigel, and Dominique
Nigel was doing his best to play the field when he first showed up on the island for season 4 of Too Hot to Handle. He realized that he was attracted to Kayla the most, yet still found himself heavily flirting with Dominique on the side. When he found out that Jawahir had a crush on him too, he even slightly started to entertain her as well. For the most part, the love triangle existed between Nigel, Dominique, and Kayla though.
After Nigel had a beachside date with Kayla and told her he wanted to take things seriously with her, he held Dominique's hand in a flirtatious way while they sat together on a bed. Dominique reported the information back to Kayla, which ended up blowing up in Nigel's face.
He lost his chance with Kayla altogether, but he was still able to piece things together with Dominique. Even though the first half of season 4 showed that he was trying to make things work with Dominique, they never came close to breaking any rules. This means that there probably aren't any sparks flying between them. The drama he had with Kayla at the beginning could be the main culprit why.
The love triangle between Brittan, Ethan, and James
The relationship between James and Brittan seemed to be doomed from the very beginning, as soon as James found out they were starring on Too Hot to Handle. Instead of showing an interest in Brittan for who she was as a person, he instantly started worrying about the prize fund more than anything else. His desire to take home as much money as possible certainly got in the way of his chance to form a meaningful connection and bond with Brittan.
Throughout the first half of season 4, she opened up multiple times about feeling annoyed at James for his lack of interest. She even took it as far as to call him out in front of the entire group by writing about his lack of intimacy on his punching bag during one of the group therapy sessions. Ethan noticed that he had a chance to swoop Brittan at that moment, and started making moves to win her over.
The first half of season 4 ended before Ethan and Brittan had a chance to share a kiss, though. Since she's been so interested in breaking rules and connecting with someone intimately, it's possible that she and Ethan will have that moment during the second half of season 4 now that she's done with James. It's sort of a mystery whether or not James is actually interested in Brittan at all since his mentality seemed to be super money-focused the entire time. Will he even be bothered by the idea of her moving on with Ethan? The second half of season 4 will likely dive into that topic.
The love triangle between Jawahir, Nick, and Seb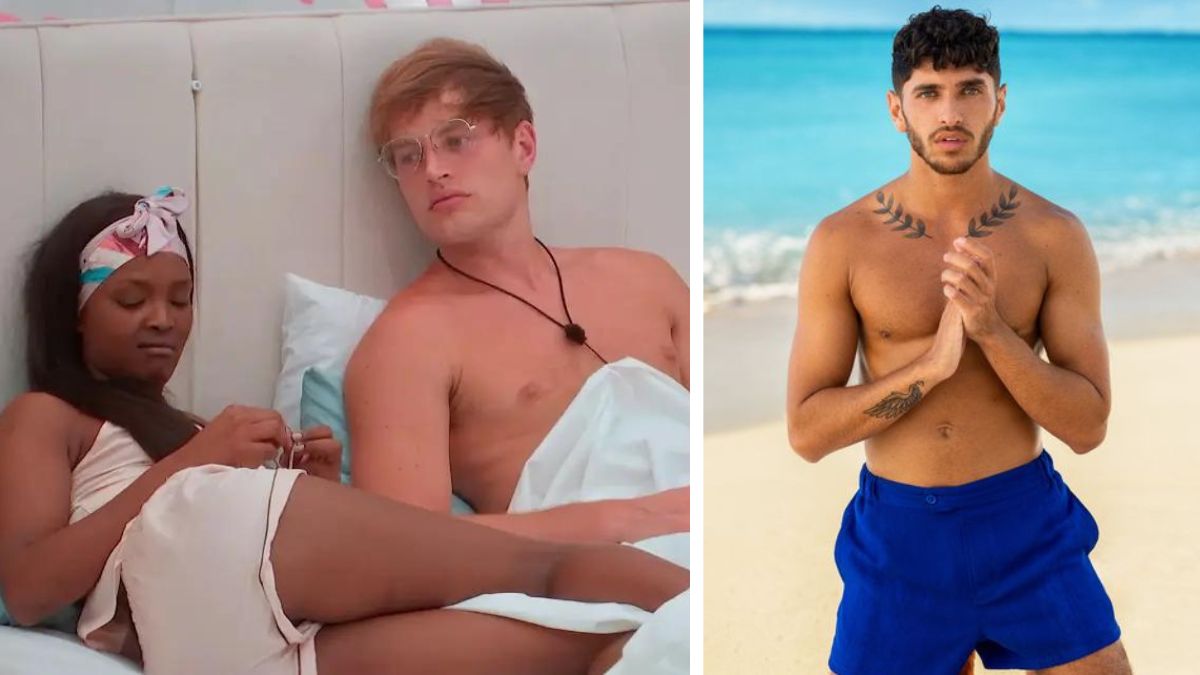 The love triangle between Jawahir, Nick, and Seb is probably the most low-key and unproblematic love triangle from season 4 in its entirety. The reason for this is that the love triangle came to a swift and calm conclusion as soon as Jawahit was able to be open and honest with Nick. The love triangle started in a way after Jawahir shared a kiss with Seb and kept it a secret.
Not long after that, she started connecting with Nick because he appealed to her emotional side. She quickly realized that the feelings she had for Nick were real compared to the lighthearted and playful moment she shared with Seb. Nevertheless, Nick appeared to be heartbroken when he found out that Joey and Seb kissed each other earlier on. It wouldn't have been an issue if Jawahir had simply been honest with Nick.
Instead, she chose to bite her tongue and wait until Lana revealed her secret. Even though she was late in telling Nick the truth, she gave him a heartfelt apology and he ended up forgiving her. Nick and Jawahir seem to have one of the most solid relationships so far. Seb was barely part of this love triangle due to the fact that he was busy pining over Kayla for the majority of the time anyway.
The love triangle between Creed, Flavia, and Sophie
One of the most upsetting love triangles to take place in season 4 of Too Hot to Handle happened between Creed, Sophie, and Flavia. There's no denying the fact that Creed and Sophie were totally hitting it off when their relationship was just getting started. They were enjoying fun conversations together, hanging out by the pool, and making each other laugh. When Ethan showed up to stir the pot, he invited Sophie on a private date. Sophie didn't cave to the pressure by giving Ethan a kiss, though.
Instead, she remained loyal to Creed because she felt like there was something worth fighting for. Unfortunately for her, she ended up getting completely blindsided when Creed decided to cut things off for her to pursue a relationship with Flavia. Flavia knew very well that Creed and Sophie were sparking up a relationship, but she didn't care at all. The love triangle between Creed, Sophie, and Flavia ended with Sophie getting excluded in the shadiest way ever.