The 10 best Princess Zeldas from the 'Legend of Zelda' franchise
Link is the hero of The Legend of Zelda, but the franchise's heart lies in the titular character, Princess Zelda. It's been 36 years since the first game dazzled NES owners, setting a rock-solid action/puzzle adventure template that's been endlessly iterated on over multiple generations. Just as the games have evolved, so has Princess Zelda. The damsel-in-distress stereotype is subverted more often than not, with each game presenting a distinct yet familiar take on the wielder of the Triforce of Wisdom.
So, with Tears of the Kingdom currently dazzling gamers and Zelda herself playing a huge role in its story, let's look back at the various incarnations of Zelda and pick out the best of the bunch.
10. Cadence of Hyrule
2019's rhythm-based spin-off from Crypt of the NecroDancer developer Brace Yourself Games is a charming and unique take on the Zelda formula. Though light on story compared to the full-fat official entries, the game is notable as one of the rare instances where you can play as Zelda herself, which earns it a spot on this list.
She's one of three playable characters, with your other options Link and Crypt of the NecroDancer heroine Cadence, though it's refreshing to pick Zelda and see her take the fight to Ganon in person for once as she takes down the three musical champions and saves Hyrule.
9. The Minish Cap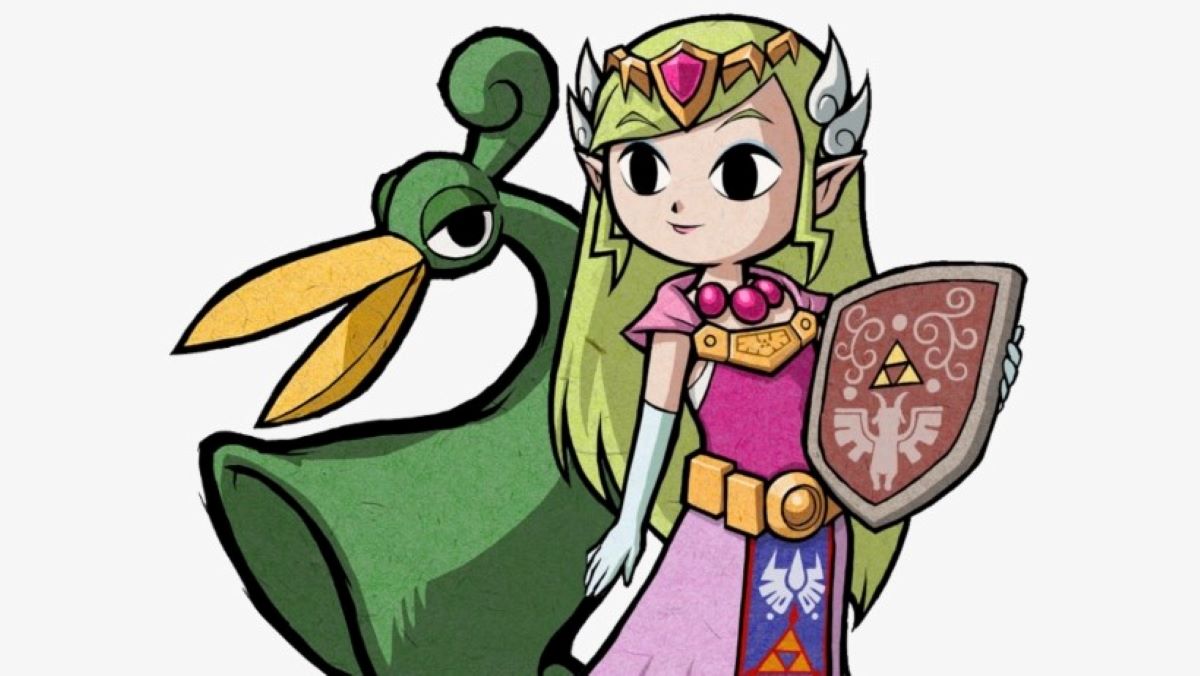 Capcom's Game Boy Advance Zelda is one of the most underrated titles in the franchise, delivering beautifully detailed graphics and a fun shrinking mechanic. In this world, Zelda and Link have been close friends since childhood, and she's a nicely mischievous Princess bridling against the restrictions of her role. Unfortunately, she spends much of the story as a statue, with Link trying to find a way to unpetrify her, though she goes on to play a key role in reverting the damage done by evil sorcerer Vaati.
Zelda's role here is short and sweet, though even with a very brief bit of characterization, we like this take on her.
8. A Link Between Worlds
This sequel to SNES classic A Link to the Past sees the world of Hyrule collide with 'Lorule,' with its alternate take on the world. That means Zelda is substantially upstaged by her Lorulean counterpart Hilda, though by the time the credits roll, A Link Between Worlds' Zelda has proven to be one of the most selfless takes we've seen.
We won't get too much into spoilers, but there's a truly touching ending to the story in which Zelda makes a truly kind and selfless gesture that cements her as one of the best Princesses in the history of the franchise. We take off our green cap to her.
7. Hyrule Warriors
Musou spin-off Hyrule Warriors is brimming over with playable characters from across the franchise and multiple versions of Zelda make the cut, though we like the game's own warrior princess take. This is an armored, battle-seasoned Zelda, leaping into the fray and dismantling hordes of enemies with her rapier, bow, and the awesomely-named Dominion Rod.
One key inspiration here seems to be her Smash Bros incarnation, and it's satisfying to take her into battle, execute her brutal special attacks and send countless enemies flying across the screen. Any opportunity to play as Zelda is notable in our books, but this might be the most fun to actually play as.
6. Ocarina of Time
All-time classic Ocarina of Time delivers three distinct versions of Zelda across its story, though the kind and friendly child version and the older version that helps pin down Ganon in the final battle aren't particularly distinctive when compared to other Zeldas from across the series. But it's her cool alter ego Sheik that really makes her worthy of note.
In the fallen future Hyrule, Zelda has been forced into hiding by Ganon, becoming a Batman-like ninja trained in Sheikah combat, though she hides her true identity so well, many players don't realize she's Zelda (or even a girl at all!) until the final moments of the game. As Sheik, Zelda demonstrates combat and magical skills, quietly steering Link in his quest to awaken the Seven Sages. Sheik proved so popular, she's become a separate character in her own right, tossing grenades around and focusing on attacks that keep enemies off balance.
5. Spirit Tracks
Spirit Tracks confounds players by (sort of) killing off Zelda near the start of the game, though she promptly becomes a ghostly spirit that accompanies Link throughout his adventures. As a spirit, she can possess hulking suits of armor, with her and Link working as a team to navigate some very tricky dungeons.
This Zelda gets some actual character development, beginning as a somewhat prissy and terrified princess but evolving into a fiercely determined warrior eager to steal her body back. Having her around for the entire game also fleshes out Zelda and Link's relationship much more than in other games in the franchise, and Nintendo uses this opportunity to give her an actual personality. We're not huge fans of the touchscreen controls, but we love this version of Zelda.
4. Skyward Sword
Skyward Sword takes place at the very beginning of the timeline and Zelda isn't yet a princess, meaning this version is much more down-to-earth and friendly. But as always in Hyrule, destiny is calling, and Zelda is soon told she's the reincarnation of the ancient goddess Hylia. Seeing her dealing with this is one of the more interesting arcs the character has, eventually embracing her destiny and going on to help found the kingdom of Hyrule.
It's a neat spin on the character, placing her as the inspiration for every Princess that would follow in her footsteps. Plus, we also love her playful nature, especially when she's standing up to Groose (though we can absolutely understand why he's besotted with her).
3. Twilight Princess
We're not huge fans of Twilight Princess, though it delivers the most awesome version of Zelda in the mainline games. This Zelda is a leader and commander — and is practically Queen rather than Princess Zelda. She's dignified, inspiring, and wields her own blade in combat. She's also the most stylish Zelda on this list, with a fantastic rendition of her traditional outfit, a killer hairstyle, and some awesome shoulder pauldrons.
Her fighting skills are eventually underlined when, in a series first, the game's finale sees a Link vs. Zelda boss bottle. Sure, Zelda is possessed by Ganondorf in this sequence, but it gives you a taste of how powerful she can be when she cuts loose. For us, this is the best "traditional" Zelda in the core series, and our only complaint is that we wish we could see more of her in action.
2. The Wind Waker
For much of The Wind Waker, you're journeying alongside Zelda without either of you realizing it. Here, she's the pirate leader Tetra, captain of her own ship with a loyal crew in tow. Tetra is a headstrong, carefree, and happy tomboy, making it all the more shocking when she learns she's actually the long-lost Princess of the flooded Hyrule. It's a killer reveal, only slightly spoiled by Tetra immediately becoming much less interesting when she dons a dress and begins to embrace her Princesshood.
Fortunately, there's a happy ending. With her destiny fulfilled, she ditches the royal outfit and dons her pirate outfit once more, setting out with her crew for a new adventure. The twist of having Zelda secretly aiding you on your adventure all along is extremely fun, though we're glad learning her true heritage didn't blunt her spiky personality.
Someone at Nintendo was clearly a fan, as Tetra reappeared in The Phantom Hourglass and eventually got her own mini spin-off game in Tetra's Trackers.
1. Breath of the Wild / Tears of the Kingdom
Much of Breath of the Wild is about forging new territory, with every aspect of the Zelda formula being reworked into something new. With that comes a brand new take on Zelda herself, giving her a unique personality and character development completely different from everything that's come before. This Zelda is obsessed with science and reason, leaving her skeptical about the mystical abilities she's supposed to have.
Her story is told through ancient memories littered around Hyrule, showing her intense self-doubt at being at the core of the prophecy to stop Calamity Ganon. All this is far more characterization than Zelda has ever gotten before, and we love it. Tears of the Kingdom pushes forward her story in many new ways, cementing this version of the character as one of the most consequential to the wider Zelda saga.
We're currently sinking some serious hours into Tears of the Kingdom, and we're impressed with her continued character development and how much they've rounded out her inquisitive and determined personality. So. whether she's a princess, a ninja, a pirate, or a scientist, Zelda is awesome and we eagerly await any future incarnations the games will throw at us.
About the author