Review: 'Lightyear' is an emotional journey to infinity and beyond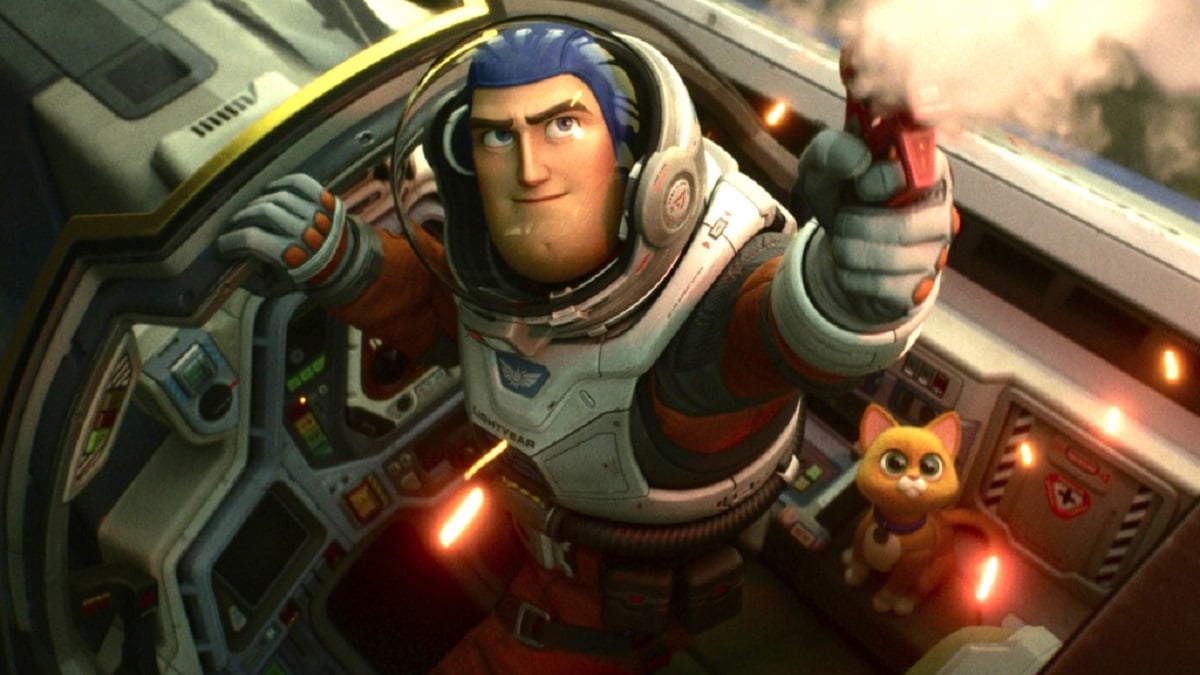 This article contains spoilers for Disney/Pixar's newest film, Lightyear.
Calling all space rangers, Disney and Pixar's Lightyear soared into theaters on June 17, and you're next in line for a life-changing intergalactic space mission — all you've got to do is count down to blast off. Oh, and bring tissues, trust us.
Lightyear tells the story that explains Andy's special birthday gift when we first met him in Toy Story back in 1995. While he was thrilled to open all of his gifts, a space ranger quickly became his favorite present and his most beloved confidant. Andy took Buzz Lightyear everywhere with him, though he never quite felt (or acted) like just a toy.
Disney's mission with Lightyear was simple, explain that feeling, and they did it effortlessly. When we first meet Buzz Lightyear, he's on a space mission with his partner, Commander Alisha Hawthorne, as they detect life on an unknown planet. Of course, otherworldly lifeforms and untapped terrain lead to more trouble than adventure, and they soon find themselves up against their most formidable odds yet.
Try as they might, the team ends up marooned on the planet T'Kani Prime, and it's not exactly a paradise they've stumbled upon. Lightyear simply couldn't maneuver the ship in the right direction, which resulted in a crash landing.
That fateful decision rests heavily on Lightyear's shoulders, and he's fighting an inner battle as the rest of his team begins to adjust. This is a significant theme in the Lightyear movie. While it's a prominent storyline, the depths of what they're playing at unfold over the first thirty minutes in a surprisingly emotional way.
From there, Lightyear begins to tell an absolutely heartwrenching but beautiful story, and it does it almost in two parts. We see the titular character as he furiously focuses on his mishaps, while those around him focus on living in the moment and recognizing the now.
There are moments that shift Lightyear's focus throughout the entirety of the film, scenes where we see the heartache and frustration of the array of emotions he feels. In addition to the depth of his feelings, Lightyear beautifully focuses on relationships — the kind of bonds that change your life.
First, with Commander Alisha Hawthorne, followed soon after by Sox — the robot cat companion. These two bonds take Lightyear through some of the most difficult yet rewarding moments in his life, and they are also responsible for teaching him the most important lessons. Commander Hawthorne is voiced by Uzo Aduba with Sox voiced by Peter Sohn.
Lightyear also meets another Hawthorne, Izzy, and her trusty sidekicks, Moe and Darby. While he first hopes that Izzy will be just like the Hawthorne he knew and loved, he realizes that her unique spirit and sense of self is just the kind of confidant he needs in the new space he inhabits, no pun intended.
As Lightyear's story continues, the space ranger welcomes new ideas and different opinions as he lets go of the ever-present dedication to fixing the past. Disney and Pixar do well to weave their lessons into stories beautifully, even when they're not all that relatable. Sure, we've not gone to space and been stranded on an uninhabitable planet, but we've all had moments where we must welcome change or be defined by our mistakes.
As the movie draws to its grand conclusion, audiences are left cheering for brave space heroes, in awe of Sox, and hoping for a future endeavor for the man behind the toy. We'd soon hop into our own space shuttles and follow Lightyear to infinity and beyond.
Disney and Pixar give us all an afternoon to be a kid again with Lightyear; it brings us back to an authentic kind of joy. There are quotable phrases scattered throughout, callbacks to the infamous quotes from Andy's Buzz Lightyear toy, and we find out just where "to infinity and beyond" came from. It fills in gaps we didn't know existed, allowing us to see Lightyear just as Andy did so many years ago — like a true hero.
All in all, Lightyear reminds us of the enchantment we felt the first time we sat down to watch Toy Story. It inspired us to find that child-like belief in magic again and within ourselves, and most importantly, it allowed us the realization that our most important moments are happening all around us — if we only slow down enough to notice.
Fantastic
It's an emotional journey through time and space with a reminder that we've got so much beauty and joy around us, if we remember to slow down and take it all in.