All the LGBTQ+ artists BTS has collaborated with…so far
Being currently the biggest boyband in the world, it comes as no surprise that BTS would appeal to a wide variety of people. BTS fans come in all shapes, sizes, ages, ethnicities, and yes, sexualities. In fact, despite South Korea's controversial views on LGBTQ+ rights, and the rampant discrimination this community faces in the country, the group has managed to gather a large following of LGBTQ+ fans.
In the world of K-pop, this can be a particularly delicate subject, with idols typically being torn between maintaining their image, or showing their support and facing the possible consequences for it in their home country. Thus, when idols do express their views on politically polarizing topics, they tend to do so in more subtle ways than Western celebrities. Nowadays, though, as they gain popularity overseas, K-pop stars are slowly but surely opening up about such topics, and BTS is a shining example.
The members themselves appear to have no problems with the LGBTQ+ community, having at times shown outright support for it by displaying Pride-related items, defying toxic gender norms, using inclusive language, and reassuring fans that there is nothing wrong with any type of love. Some of the group members have also frequently shared with fans their enjoyment of works by LGBTQ+ creators, especially in music and film. Without a doubt, these factors majorly contributed to the emergence of a relationship of trust between BTS and their fans, who see the members as upstanding, kind, and respectful people, who ARMY can count on to feel accepted.
As they say, actions often speak louder than words, and BTS has proven time and again that music has no barriers or boundaries. Over the years, the band has collaborated with a plethora of artists, both Asian and Western, spreading their artistry to new corners of the world. In doing so, BTS has worked with all kinds of artists, different in many ways except for the one that truly matters: their passion and dedication to their craft. With this in mind, it stands to reason that some of these artists would be part of the LGBTQ+ community — and here they all are.
Halsey
Halsey has always been open about her bisexuality and has shared her personal experiences a number of times over the years. She also does not shy away from including that part of herself in her music, both lyrically, and in music videos.
As for her history with BTS, Halsey first met the group in 2017, at the Billboard Music Awards; however, it wasn't until 2019 that a collaboration took place. The American singer joined the band in the creation of "Boy With Luv," contributing her own lyrics to the track and featuring in it. During the collaboration process, the BTS members seem to have developed a friendship with Halsey, mentioning their mutual respect and fondness for one another a few times since.
That's not where the collaborations stop, though. In 2020, Halsey released "SUGA's Interlude," a song featuring — you guessed it — the oldest BTS rapper. SUGA and Halsey seem to have a particularly close friendship, with her even referring to the rapper as her twin, due to their similar personalities.
Lil Nas X
Lil Nas X is one of the few openly gay rappers in the music industry. In 2019, he publicly confirmed his sexual orientation in an interview, after having dropped what he believed to be obvious hints in his song, "c7losure." Since then, Lil Nas X has become bolder in expressing his sexuality through his art, with "MONTERO (Call Me By Your Name)" being one of his most iconic music videos to date.
The same year, Lil Nas X released a remix of the hit song "Old Town Road," featuring RM. The BTS member added his own lyrics to the mix, and this version of the track became known as "Seoul Town Road," as a reference to RM's birthplace. In January 2020, BTS joined Lil Nas X for a performance of the song at the 62nd Annual Grammy Awards.
Troye Sivan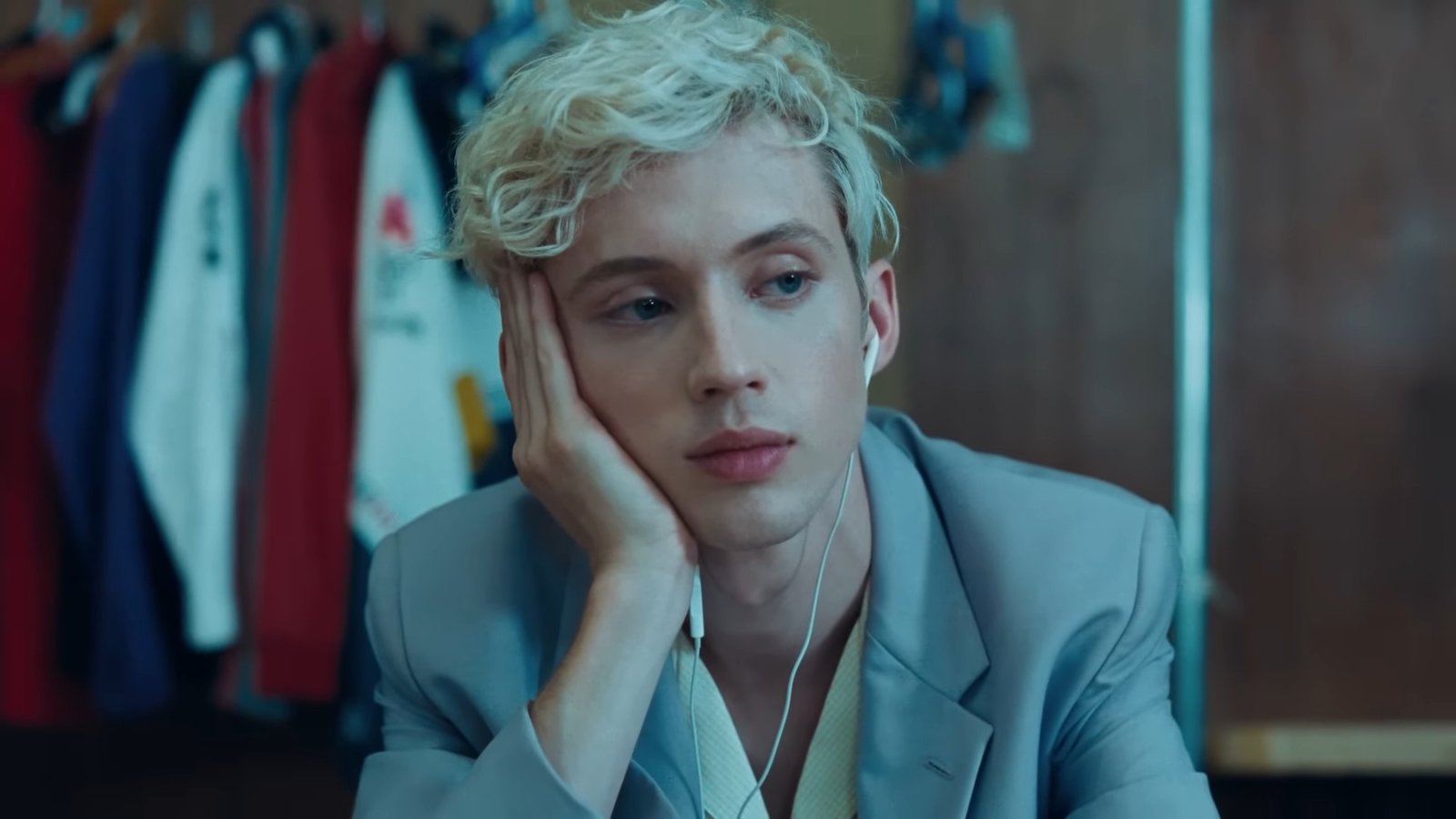 Troye Sivan started out as a YouTube star, where he publicly came out as gay in 2013, after years of fans' speculation. Deciding to pursue his passion for music, he became widely known as a singer in 2015, with the release of the Blue Neighbourhood Trilogy. The music video trilogy included the songs "WILD," "FOOLS," and "TALK ME DOWN," and like many of Sivan's works, it portrayed the artist's struggles with his sexuality. Following its release, Bang Si-Hyuk, the man responsible for creating BTS, recommended "FOOLS" to the group, who seemed to enjoy the track. Soon after, Jungkook and RM uploaded a cover of the song to SoundCloud.
That is not, however, where BTS' history with Troye Sivan ends. While some may find it surprising, Sivan co-wrote one of BTS' most beloved songs, "Louder Than Bombs," which was released in 2020, as the tenth track on Map of the Soul:7. The song's original title was actually "Hologram Hots" and Sivan sat on it for six years before it reached BTS' hands. With a new title and a few alterations, the song became the masterpiece ARMYs know and love today.
MNEK
In 2018, BTS released their third studio album, Love Yourself: Tear, and with it, "Paradise." Before reaching the band, though, the song's title was "Mouth," and it belonged to MNEK. The artist was able to collaborate with BTS through a U.S.-based producer, and while the track's lyrics suffered major changes during the process, its original melody remains.
MNEK has been open about his homosexuality since 2019, and although there are no reports of the artist talking about his gender identity publicly, on Instagram, MNEK lists his pronouns as "he/him/she/they." Over the years, the singer/songwriter has been adamant about supporting LBGTQ+ youth, talking openly about his experiences and the struggle of being a Black, gay person in the music industry. MNEK was also involved in the creation of a songwriting camp especially dedicated to LGBTQ+ artists.
Sia
Sia's collaboration song with BTS is by far the least enjoyed by fans, who accuse Sia of merely slapping her vocals over the members' during the chorus. Despite some ARMY considering this the only skippable track in the band's discography, it exists, which means we have to talk about it.
"ON (Feat. Sia)" is a digital bonus track in BTS' Map of the Soul:7 album, which was released in early 2020. The song is a remix of the group's lead single, "ON," which was a massive hit among fans. Not much is known about how the collaboration came to be, other than the fact that RM tweeted about Sia back in 2014, and suggested a collab.
The Australian singer has talked about her sexuality since 2008, claiming to be "flexible" when it comes to romance and sexuality, and admitting that someone's gender is not an important factor in the equation. In 2013, Sia labeled herself as queer via Twitter.
Balming Tiger
In September, a South Korean band known as Balming Tiger released "SEXY NUKIM," in collaboration with BTS' leader. RM not only features on the hip-hop track, but also took part in its creation by writing his own lyrics, as he always does. The collaboration gave Balming Tiger a boost in popularity, and with new fans getting to know the band, came the speculation surrounding its members' gender expression and sexuality.
All the bandmates have shown support for LGBTQ+ rights, but Jeong Ui-Seok, aka Omega Sapien, has raised the most waves. In a video posted to the band's TikTok account, the artist makes a play on the lyrics of "Doja" by Central Cee, which originally go "How can I be homophobic? My b***h is gay." Jeong instead says "How can I be homophobic? I'm gay," finally putting to rest fans' speculation about his sexuality.
Megan Thee Stallion
While Megan Thee Stallion has not explicitly labeled her sexuality, she has alluded to having relationships with and being attracted to women on a couple of her tracks. Live on Instagram, the artist also claimed to want a girlfriend, going as far as to describe her ideal woman: "I'm a free agent on the ladies' side (…) I'm looking for a new girlfriend if anybody trying to be a hot girl. I like little petite things with tattoos, that's my type." During an appearance on Yung Miami's TV show, Caresha Please, Megan also talked openly about sex with women, but when directly asked about her attractions, the rapper simply answered "I like what I like," possibly not wanting to further explain or label herself.
Nevertheless, for all these reasons, Megan Thee Stallion should be included in this list. She collaborated with BTS in 2021, releasing a remix of "Butter," which was a definitive hit among fans. The song's release was no ride in the park, as the singer had to fight for it in court, after accusing her label and distributor of blocking the track's release. In the end, Megan won, and listeners got to experience the rapper's incredible addition to the song.
It's worth noting that a case could be made for the inclusion of Nicki Minaj in this list, considering that she has featured in a remix of BTS' "Idol." However, despite publicly labeling herself as bisexual early in her career, the rapper has more recently gone back on that claim, explaining that she no longer identifies that way, and is heterosexual. For that reason only, we chose to not include Minaj on the list.
Thus, these are the seven LGBTQ+ artists BTS has worked with, as far as we know. The door remains wide open for future collaborations, though, even with the band's impending enlistment in the South Korean military. BTS plans to come back as a group in 2025, so who knows what more they can bring to the table? One thing's for sure, though — ARMY will be waiting.