With How I Met Your Mother finishing its penultimate season, the glaring question the show is built around will soon be answered. Fans have anxiously awaited the reveal of who Ted's wife is for the last 8 years as the character has dated a wide array of girls, from the awesome to the completely ridiculous.
It's safe to assume that we've yet to meet the mother in any form (other than her ankle and umbrella) but that doesn't mean Ted hasn't dated some memorable girls, some of whom he may have been wise to have held onto.
We know that Ted's dated his last significant girl before he meets the mother, so that means we're going to see just who this mystery woman is soon. In honor of the upcoming reveal, I've ranked every girl Ted has dated on the show. For a girl to qualify for this list, she had to at least be significant enough to stick around for most of an episode, or to be the focus of a story he tells. A girl briefly mentioned in passing isn't worth ranking.
To find out which of these girls Ted should have stayed with and which ones he was crazy to even briefly date, continue reading on the next page.
Click below to continue reading.
Next
36. Karen
Sorry bro, but Karen is definitely the scum of Ted's past relationships. I won't even dwell on the obvious flaw which is the whole cheating on him every time she visited him at college. Even if you take away the cheating she sucked. It was like every slightly annoying trait Ted has was exponentially increased when he was with her. She was pretentious beyond all belief and did absolutely nothing to make him a better person. Fail Ted.
35. Strawberry
Strawberry is a girl that we barely got to see any of, and there's a good reason for that. Ted would've never been able to date a vegan. I don't think he's ever eaten a meal on the show where he didn't have mostly meat on his plate. Plus her name was Strawberry. Strawberry for crying out loud. At least she had spunk…
 34. Jeanette
There are a few girls that the writers have made a much greater effort to make the audience hate than the others. Despite Karen's pretentiousness, and the flaws of all the other girls on the bottom half of this list, I think Jeanette really may have been the most out there. She hardly had any redeeming qualities at all, and any slight hint of a positive has to be completely overshadowed by the fact she was absolutely bonkers and ended up destroying almost all of Ted's stuff. She destroyed the red cowboy boots. Enough said.
33. Becky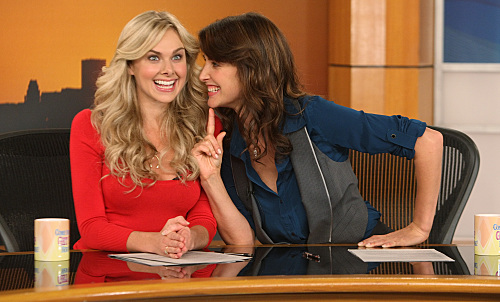 Really Ted? Dating a girl who acts like she's 8-years-old? I mean yeah, Becky was cute, but I really don't understand how she won over so many men with her little kid act. Thankfully, Ted realized how sad this one was on his own before getting serious with her. But really, boats? Boats? Boats? Horrible Ted.
Click below to continue reading.
Previous
Next
32. Blah-Blah
Blah-Blah, the woman who fluctuated more on the hot-crazy scale than Vicky Mendoza herself, is easily one of the worst women Ted has dated. She was way attractive but so insecure that she wouldn't admit they met online. How horrible was Blah-Blah? She was so bad that Ted didn't even remember her name. The only thing that keeps her from being last is she obviously whispered something awesome to shoot so far above the Mendoza diagonal.
31. Lizbeth
Most of the girls Barney set Ted up with in Good Crazy were pretty horrible, but Lizbeth was definitely the worst of the bunch. There really isn't much to be said about her except the idea of Ted with a dark, emo girl is totally ridiculous. It wouldn't ever happen. Pass.
30. Ashlee
Ashlee is a girl that Ted spends a night with while seeing if bad things can actually work out for the better, and for a bit of the night, they do. However, Ashlee sucks if only for the fact that she was married and still made out with Ted. She also was willing to get with Ted when he was making a total ass of himself. This doesn't even count as a date, but he did spend a whole St. Patrick's day with her, so she's worthy of inclusion on this list, if nothing else but for how horrible she was.
29. Cathy
Everyone has their perks, and Cathy seemed nice enough, but good god, I don't know how Ted didn't realize the insane amount that this girl talked. She didn't even talk about anything of significance either. It was on and on and on and on about nothing. I mean, she talked so much that Ted was able to shatter the glass of a deaf guy when he pointed it out. A deaf guy. Other than the incessant chatter, there really wasn't anything too wrong with Cathy, but wow, I couldn't have sat through five minutes of that.
Click below to continue reading.
Previous
Next
28. Vicky
Everything about Vicky was so wrong for Ted that he was willing to try the naked man on her, the optimum result of which is a one-night stand. For Ted, the man who has spent years searching for his soul mate, to go on a date with a girl and be willing to end it with a one-night stand, you know she must be dreadful. The final straw of finding out that the Pablo Neruda poetry book isn't even hers made it inevitable that things wouldn't work out for Ted. On the plus side, she was pretty attractive and helped Ted break out of his post-Stella slump, so she gets some points there. That's the beauty of the naked man, it gives you exactly what you need. No more, no less.
27. Royce
Royce may not belong this low on the list, but come on, how could she like The Wedding Bride so much? I realize everyone, including Marshall, loved it, but it was such a crappy movie. The fact she felt the need to continually discuss a lame rom-com for days after seeing it shows that she wasn't anywhere near the intellectual level that Ted needs. Plus, she was left at the alter three times, has a gambling addiction, and shares a bed with her brother. Weird.
26. Robyn
Another interesting girl from Good Crazy, things definitely wouldn't have worked out between Ted and Robyn, or Yobin as he likes to call her. Sure, she loved scotch, and guns, and was Canadian, but that's just all the more reason that Ted never could have stayed with her.
25. Tiffany
While she totally mistreated Ted, everyone knows what it's like to be on the hook or to have someone on the hook, so there has to be some sympathy for Tiffany there. Maybe? No? You're right, not at all. But just look at her… And she was a pharma girl. If only she had reeled Ted in instead of just keeping him on the hook.
Click below to continue reading.
Previous
Next
24. Rachel
Ted may or may not have ridden the tricycle with her, so that gets her extra points for sure, but other than that there's not a whole lot of redeeming qualities to Rachel. While Trudy seemed totally awesome, even when lapsing into her sorority ways, Rachel seemed like a girl ten years out of college who still sneaks back into the old house for parties. But again, the tricycle…
23. Honey
Ted Mosby is one of the most pretentiously intellectual characters on TV. Heck, he wanted to have a bar where people sit around in tweed discussing poetry. So for him to date someone as dumb as Honey, well that obviously wasn't going to work out at all, so it's a good thing he let her go. On the other hand, she was played by Katy Perry, meaning she looks like Katy Perry. That speaks for itself.
22. Molly

Well Molly kind of sucked, at least for Ted, but it's very fitting that Ted's first wasn't into him while he thought he was madly in love. The fact she was able to get him to loan her money but then never called him again is horrible, I know, but the girl does seem a little bit cooler for it. Plus, Ted's first holds a special place, thus Molly gets some bonus points here.
21. Natalie
Why Ted wanted to get back with Natalie I have no idea. Yeah, listening to Belle and Sebastian is cool, I guess, but that's about all she had going for her. But she had a sock monkey obsession. How weird is that? Plus this girl definitely has some anger issues.
Click below to continue reading.
Previous
Next
20. Naomi
It's pretty depressing that Ted waited years to meet this girl and it ended up that nothing between them was right, but when things are as uncomfortable as they were, it doesn't matter how much the person was built up. It's likely that Ted built her up too much as well, which is going to hurt when they finally meet again and he's set standards that no woman can match.
19. Jen
Ted dating a girl who's in love with her cats was never going to work, but at least she was cool enough for them to enjoy another first date together and figure out all the things that went wrong. Many women would've walked away as soon as they remembered they had been on that date before. The tips she gave Ted for future romances were spot-on, so she's cool if only for that reason. But as Ted says, he needs someone who doesn't just tolerate his quirks, but loves them.
18. Abby
Yes, Ted was only dating her to get at Stella, but there really wasn't any glaring problem with Abby when Ted was with her. She ended up going crazy after Barney screwed her over, but most girls would probably go crazy after dealing with Barney. Had Ted not been so blinded by his infatuation with Stella he may have actually dated Abby for a little while longer. Plus, it isn't like his relationship with Abby could've turned out any worse than Stella did.
17. Holli
I know Ted's "texty text" never actually reached Holli, and all the hot things she texted him about were actually Barney and Marshall, but she was a very cute girl. Plus, she did end up actually going on a date with Ted, but that was where it went downhill as she did everything that Ted does too soon. Then again, her name did end in an "i"…
Click below to continue reading.
Previous
Next
16. Holly
Sure, they may not have been anything all that special about Holly, and we don't really get to see much of her, but she was pretty, caring, and they slept together, so points right there. The only downside to her was she reminded him of Robin since her ex-fiancee Wayne had no manners. There are far worse memories that a girl could conjure up than a detour through Batman lore.
15. Carly
There's no denying the fact that Carly gets a major bump on the list for the fact that she's Barney's sister. Well, Barney's half-sister, but still. She was also pretty dang cute. She's got tons of spunk and obviously brought the youthful vibe Ted needed at the time. Then again, she insisted on roller-skating and had only seen the Star Wars prequels…
14. Natalia
This was hardly even a date for Ted, as he left the dinner before he even ordered food, but he definitely should have stuck around for this one. She's a world-class violinist, a gourmet cook, and can quote every line from Caddyshack. What more could Ted possibly ask for?
13. Marybeth
The jury is still out on whether Marybeth was actually flirting with Ted, or whether she was just too friendly with everyone, but come on, when are hugs a bad thing? She also was willing to leave the limo amicably when she realized that Ted was in love with Robin, a mature and classy thing to do. It's a shame that we never got to see much more about her.
Click below to continue reading.
Previous
Next
12. Amy
Although Amy was probably a horrible match for Ted, she was able to break him out of his depression of staying home alone in the time after his break-up with Robin. Plus, any girl who is able to convince Ted to get a tramp stamp obviously has something going for her.
11. Stacey Gusar
Stacey had the oh-so-horrible flaw of Ted thinking she hooked up with Barney. There really isn't any coming back from that one. Other than that she was just about perfect. She played bass, which is Ted's oddest fascination, and she was in great shape meaning she had a rockin' bod. If only he didn't try to compete with Barney for her, she likely could've ended up the mother.
10. Maggie Wilks
Oh if only the window had been large enough for Ted to sneak his way through. Maggie is one of the cutest girls Ted has had an opportunity to court, even if he really never got his shot. A marine biologist and a mentor to inner city kids at night, it's no wonder that so many men fell head over heels for her, but alas, it just wasn't meant to be for Ted. And if all else fails, Make Adjustments, Go Get It Energized.
9. Trudy
Trudy was a flat out fox and way, way cool. The fact Ted was able to initially get her attention singing Cheap Trick counts for something, and she was totally okay with a drunken Ted swooning over her in the ladies' room. She also helped Ted ride the tricycle (yes I'm convinced it happened) so that bumps her way up the list. But dammit Trudy! What about the pineapple!?
Click below to continue reading.
Previous
Next
8. Amanda
Maybe I just have a sweet spot for girl who can bake (pun definitely intended), but how great was it that Amanda was a cook? Granted, the cake she baked for Lily called her Lori, but that was an honest mistake. Amanda was cute, and one of the sweetest girls we've seen on the show. Ted brought her into an incredibly uncomfortable situation and she made the best of it and was a darling to everyone. It's a real shame that a year later Ted couldn't remember her name.
7. Cindy
Cindy is the first girl on this list that I would've been happy had Ted ended up with her. Now we know there's the minor snag of her being a lesbian, but when they were dating, Ted and Cindy were pretty awesome together. She was a Ph.D. student, so you know she's smart enough for Ted, and the only real flaw she had was a bit of a roommate complex, which is understandable considering Ted does end up falling in love with her roommate.
6. Janet McIntyre
If there was one girl that was absolutely everything Ted had ever dreamed of, it was Janet McIntyre. A billionaire kidney donor, who graduated from Princeton at 15, climbed Everest, and in her free time saves babies from creeks, the only thing wrong with this girl is she was too great for Ted. There's no way he would've been able to handle a real relationship with her, and of course, as soon as he knows how great she is, he clams up. But it was worth it to make sure she didn't only kind-of like Annie Hall, right Ted?
5. Robin
Oh Robin. The woman that Ted just can't seem to shake. If the show was to go on for twenty seasons, we'd probably get to see an other-wise happily married Ted continue to confess his love to Robin. Although we found out in the very first episode of the show that she wasn't going to be the mother, plenty of fans still want to insist that Ted and Robin end up together, and I see where they're coming from. I mean come on, it's the dream to end up falling in love with your best friend, and that's exactly what Ted has done (cue Barney insisting he's the best friend) however, she doesn't want kids, which should be a huge deal-breaker for Ted and is what keeps her off the top of this list.
Click below to continue reading.
Previous
Next
4. Zoey
I know she's a polarizing figure, but Zoey really was an awesome girlfriend for Ted. Though their relationship began under dooming circumstances (she was married and trying to save the building he was tearing down) once Ted and Zoey worked past their initial differences, they were quite a great couple. Arch enemies turned to lovers really worked here, and Zoey was such a cute yet deep character. The only main problem was that Ted was too similar to her, and that isn't the worst problem to have.
3. Victoria
Victoria may have lost a lot of points when she left for Germany (and when she came back for season 8), but when Ted first met her she was absolutely incredible. Sweet, caring, and a baker. What more can a guy ask for? The way Ted originally tracked her down and kissed her in the bakery is more romantic than any first kiss he's had. Plus her drum roll theory completely won Ted over. Brilliant play Victoria. The main qualm I have with Victoria is her insistence that Ted stop being friends with Robin. Although she obviously had a point considering how often Ted has fallen back in love with Robin, anytime a girl asks a guy to leave his friends that's a major red flag.
2. Stella
Stella had us fooled for quite a while. They actually had a wedding lined up, so it didn't seem too farfetched to assume that Stella was actually going to be the mother. She was willing to fake liking Star Wars for the rest of her life to make Ted happy (though the fact she didn't like it means there's definitely some mental instability there, but we'll let that slide) and that shows how much she truly cared about Ted. Unfortunately for Ted (fortunately for fans of the show) there are some demons that are just too great to get past, and that was the downfall of this relationship.
Click below to continue reading.
Previous
Next
1. Mary The Paralegal
That's right, my choice for the best girl Ted Mosby ever dated is Mary the Paralegal. Although it may be surprising at first, when you think about it, it really is an obvious choice. I mean Ted had instantly great chemistry with her, she was easily the hottest girl he's dated, AND she was throwing around Star Wars references. If only Ted hadn't called her a hooker, this really could've been something special.
That's our ranking of all of Ted Mosby's girlfriends. What do you think of the order? Who do you think should be higher or lower? Share your picks with us in the comments section below.
Previous