8 DC characters Dave Bautista should play to show Dwayne Johnson how it's done
In news that's delighting fans of inter-actor feuds, Dave Bautista has fired shots in the direction of fellow former WWE vet Dwayne Johnson. As you may have heard, the Glass Onion star has made clear that he doesn't want to be "the next Rock" and instead aims to be viewed as a "good" and "respected" actor. Ouch.
Well, it just so happens that Bautista is looking for a new chapter in his career after saying goodbye to the MCU with this May's Guardians of the Galaxy Vol. 3. That means the door is wide open for him to roll straight into the DCU, what with frequent collaborator James Gunn now in charge of the franchise. A franchise, it should be added, that Johnson himself was just let go from after Black Adam got banished from the screen.
Bautista has a prime opportunity here, then, to show his apparent rival how it's done and carve out his own place in the DC universe. But who could be play? Here's eight roles that would be perfect for him over in DC-land.
Black Adam
So, this is never going to happen, not unless James Gunn wants to turn The Rock into a lifelong enemy, but let's just imagine the incredible drama that would come out of Black Adam being recast with Dave Bautista. Honestly, it'd be interesting to see the alternate universe out there in the multiverse where Bautista landed the role ahead of Johnson in the first place. He might've actually turned up in Shazam! and The Flash, for starters.
Kilowog
If you ask DC fans who they'd like to see Bautista play in the DCU, one character who's frequently mentioned is Kilowog, the warthog-faced alien who's a member of the Green Lantern Corps and friend to Hal Jordan. It would be a lot of fun to have Bautista in this part, although to be honest, we're not sure it would present enough of a dramatic challenge for him, given his newfound dislike of "silly" roles.
Atrocitus
Sticking with the Green Lantern mythology for a minute, then, what about Bautista playing Atrocitus instead? The leader of the rage-fueled Red Lantern Corps, Atrocitus would make for an epic, perhaps even Thanos-level, big bad for the rebooted DCU, and Gunn could do no better than to cast his old pal Dave in the role. The only downside is that it may require Bautista to don a lot of makeup and prosthetics again.
Wildcat
The Rock just faced off against the Justice Society in Black Adam, so it's unclear if Gunn's going to touch the JSA again in his DCU. If he does, though, a more grounded role perfect for Bautista would be Wildcat, the former boxer and one of the most gifted martial artists on Earth-1. He's typically portrayed as the mentor of Black Canary, so he's a shoe-in for that Jurnee Smollett solo movie, if that ever happens.
Orion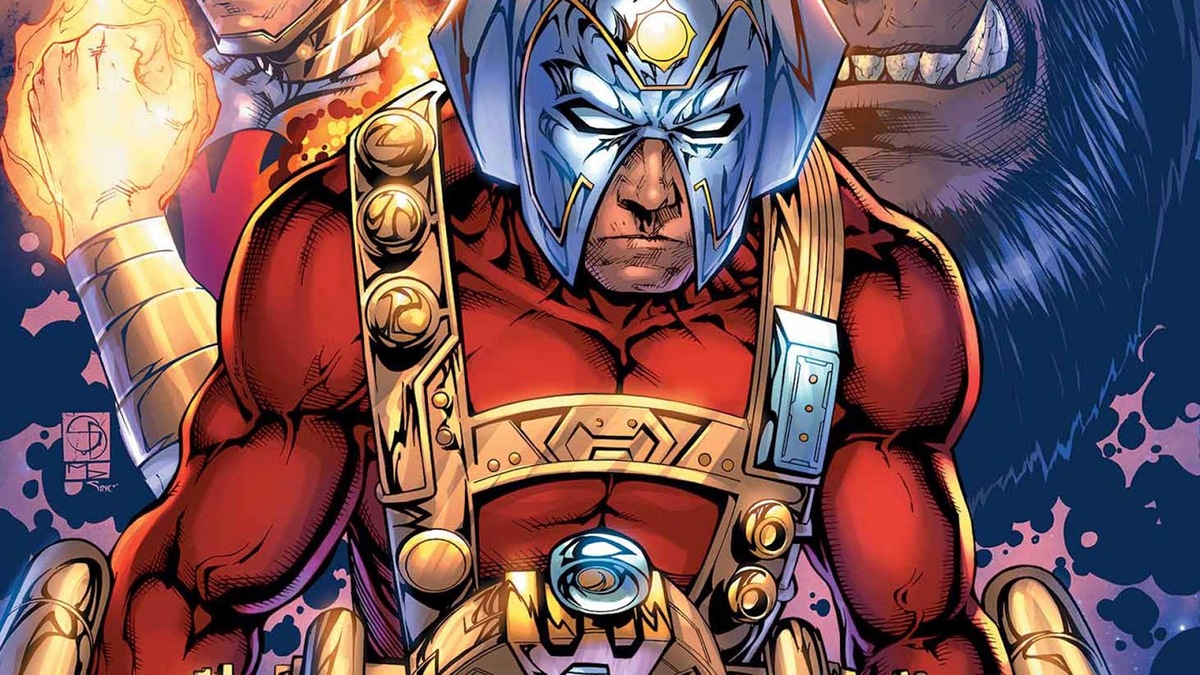 If Gunn is looking to dust off any interesting projects cancelled by the old guard, Ava DuVernay's New Gods movie should be right at the top of the pile. And once he's recommissioned it, the next thing he should do is cast Bautista as Orion. For those not aware, Orion is the heroic estranged son of none other than Darkseid. He could well be the protagonist of such a film, giving Bautista his own DC vehicle.
Martian Manhunter
Martian Manhunter is one major DC hero that the old DCEU totally failed (outside of his Snyder Cut cameo), so Gunn needs to put that right ASAP. While J'onn J'onzz isn't usually depicted as being as beefy as Bautista, he'd actually be a terrific left-field casting choice for the part. Playing the wise yet pained last of the Green Martians would allow him to deliver on the gravitas he wanted to bring to Drax.
Bane
It just so happens, however, that Bautista has made it clear which DC character he'd personally love to play the most. It's iconic Batman villain, Bane, as made famous by Tom Hardy in The Dark Knight Rises. There were a lot of rumors back in the day that Gunn was going to cast him in that role in The Suicide Squad. While that never came to pass, maybe Gunn should bring the fan theory to life in his shiny, new DCU?
Hugo Strange
But, you know what, Bane might not actually be the best DC character for Bautista to play as — presuming he'd be cast as the classic, Venom-ized version — he'd still be stuck under a mask and makeup, something he's sick of as Drax. So what about him portraying a different Batman villain instead? Enter Hugo Strange. Just look at Bautista in Blade Runner 2049, with those teeny, tiny glasses, and try and argue he wouldn't be brilliant as the Arkham Asylum mad doctor in, say, The Batman 2? See, you can't.