The best red-haired anime characters
Whether it's hair or eye color, anime characters can be easily identified by their unique hues.
A redhead in an anime usually means an unnatural shade of, well, red ⏤ not the orange and auburn hues of the corporeal world. The color can be a useful symbol for a character's personality, brash and hot-headed (sometimes literally), but the color can also mark them as having a unique personality.
Here are some of our favorite red-haired characters in all of anime.
Who better to lead our list than Shirayuki (Brina Palencia), the titular redhead in Sorata Akizuki's shojo manga Snow White with the Red Hair. First published in 2006, the ongoing serialization received a popular anime adaptation in 2015 from Bones (My Hero Academia) that brought the beauty of the kingdom of Clarines to life. A lowly herbalist in Tanbarun, Shirayuki flees her home when her unique red hair makes her a haughty prince's object of desire. On the run, she meets Zen Wisteria. The mysterious and admittedly bored royal takes Shirayuki in, but she will establish herself as a court herbalist and fierce beauty all of her own accord.
Snow White with the Red Hair is published in English by Viz Media. You can stream the anime on Crunchyroll.
TKTKT, Kobayashi (Leah Clark) is both a stoic workaholic and kindhearted caretaker. In Coolkyousinnjya's ongoing manga series, adapted by Kyoto Animation in 2017, Kobayashi is a normal office worker with an obsession for maids whose lonely life is transformed when dragons from another world wind up under her care as maids, friends, and even children. The dragons slowly erode her cold exterior as Tohru, her maid, the titular dragon maid, persits in her affection. Eventually, even Kobayashi is able to requite her love in the (at times) explicitly queer comedy.
Miss Kobayashi's Dragon Maid is published in English by Seven Seas Entertainment. You can stream the anime on Crunchyroll.
Rin Matsuoka (Free!)
The childhood rival turned early antagonist turned best friend of Free's protagonist, Rin Matsuoka (Vic Mignogna) is as formidable a swimmer as he is a lovable. The shark-toothed athlete who returned from his training in Australia emotionally damaged must learn that team, friendship, and family are not only more important than winning, but will make him a better swimmer as he strives to fulfill his late father's dream of competing in the Olympics.
You can watch Free! on Crunchyroll.
The Second Child and pilot of Evangelion Unit-02, Asuka Langley Sohryu (Tiffany Grant, Stephanie McKeon) is a prodigious German-American teenager who saves Shinji, and the world, from the Angels on several occasions. One of the three pilots in Gainax's legendary mecha anime, Asuka is the most proficient in the cockpit. That absolutely goes right to her head. She's no better adjusted to it all, however. She's still a normal girl struggling to grow up in an existential apocalypse that wants to have sleepovers and simple crushes. Asuka can usually be found standing on top of things to look down on her peers. In the Rebuild of Evangelion, Asuka is given a new name ⏤ Shikinami ⏤ and her hair color is made more brown. These are subtle indications that this is a different character than the Asuka we're familiar with.
You can watch Neon Genesis Evangelion on Netflix.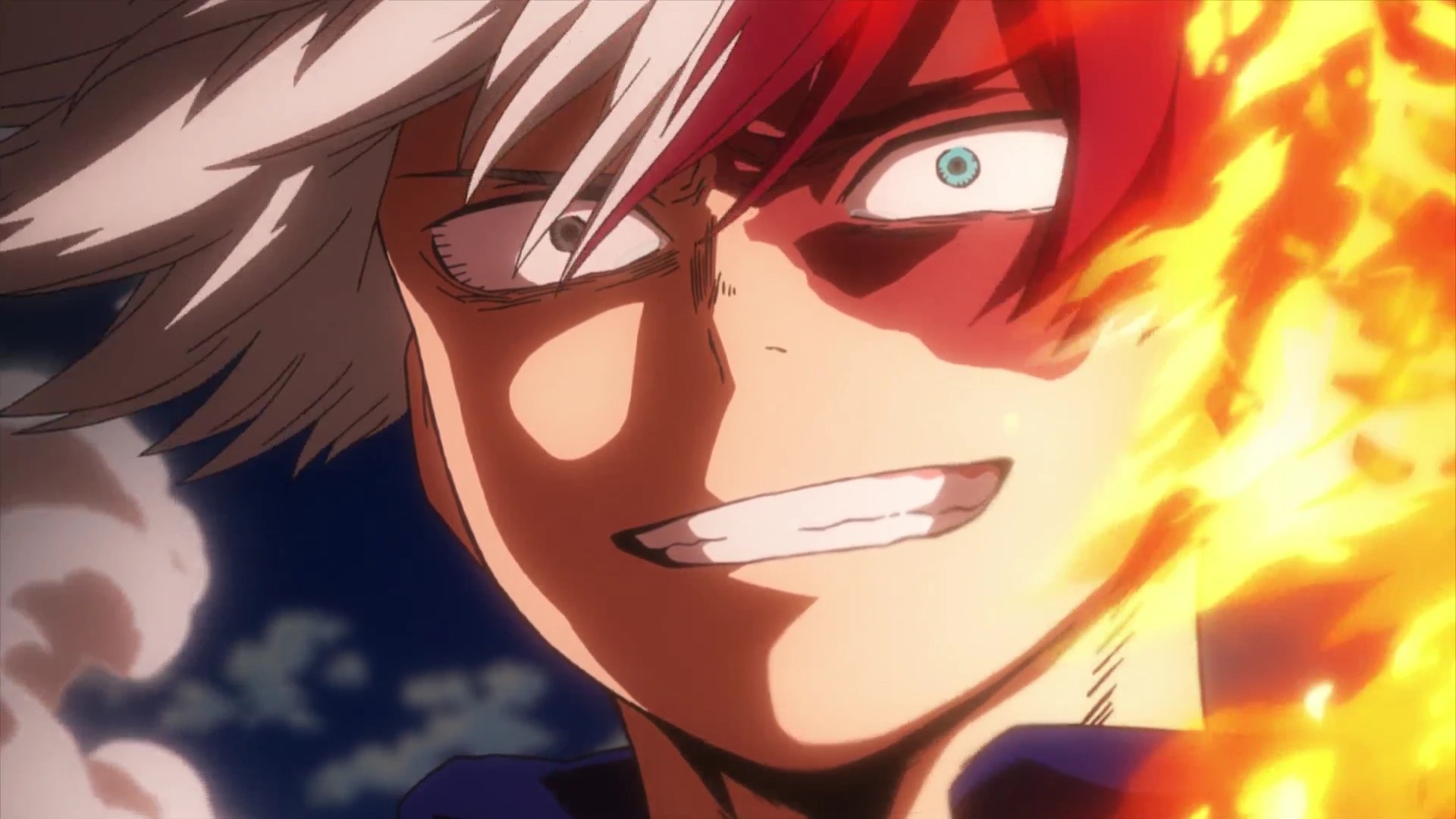 Of course, we can't overlook the boys with heterochromatic hair. Serious, angsty, supportive, and protective, Shoto's personality matches his unique quirk ⏤ Half-Cold Half-Hot. The superhero from Kōhei Horikoshi's ongoing shonen battle manga about superheroes and villains, Shoto is a hero with a complicated backstory, one that he works through on screen with the help of his friendly rivals Deku and Bakugo. In confronting where he comes from, Todoroki is able to grow stronger in utilizing his powers.
My Hero Academia is published in English by Viz Media. You can read it on the Shonen Jump app and watch My Hero Academia on Hulu and Crunchyroll.
Another character with half-red hair, Tanjiro is Demon Slayer's indefatigable protagonist. The hero of Koyoharu Gotouge's smash hit manga series-turned-record-setting anime, Tanjiro can harness the power of Sun Breathing to vanquish demons and protect his friends and sister, Nezuko. Traveling around Taisho era Japan, Tanjiro fights alongside high ranking hashira members of the Demon Slayer Corps as he seeks to avenge his fallen family by slaying the Demon King Muzan Kibutsuji.
Demon Slayer: Kimetsu no Yaiba is published in English by Viz Media. You can read it on the Shonen Jump app and watch Demon Slayer: Kimetsu no Yaiba on Netflix and Crunchyroll.