In a plot twist, PETA actually loves Kylie Jenner's lion head gown
Kylie Jenner made waves yesterday when she attended the Schiaparelli Haute Couture show sporting a rather unique accessory – a whole lion head. The black velvet gown sported a large lifelike lion's head at the top, and, unsurprisingly, the gown has polarized critics. In a shocking plot twist, one group that you may not have expected to be on board with the design is all for it: PETA.
The lion's head is completely man-made and does not incorporate any real fur or skins such as leather. The design was sported by Jenner sitting in the front row as well as model Irina Shayk on the runway. The lion was not the only animal to make an appearance, with a leopard print dress with yet another 3D head also shown off on the runway along with a wolf coat worn by Naomi Campbell. These three animals are found in Dante's Inferno which was the inspiration for the collection.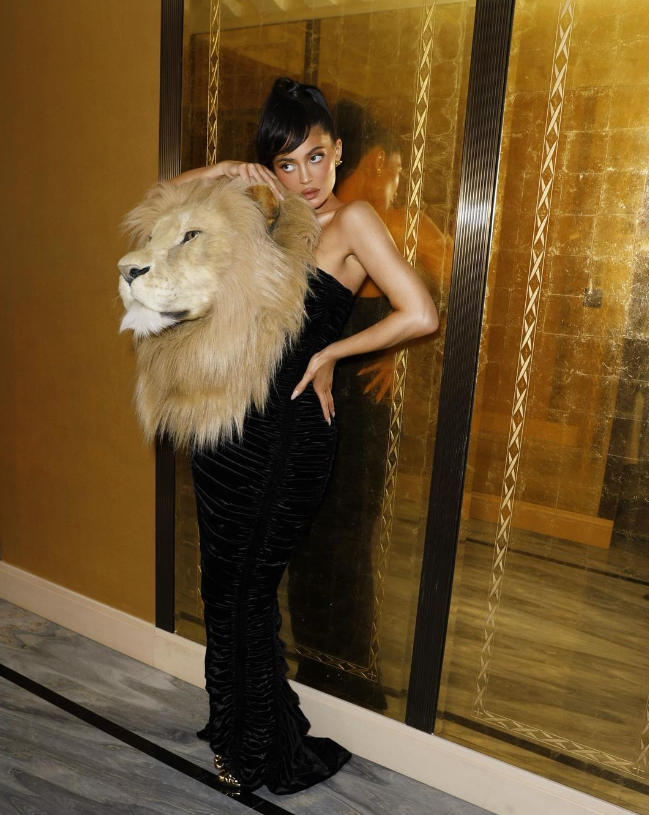 Usually, PETA is pretty hardline about anything that looks to be remotely harmful towards animals, with questionable ad campaigns of their own in the past, but surprisingly they are on the designer's side with this one. In a statement shared with Page Six, PETA President Ingrid Newkirk, lauded the designs, saying that the 3D animal heads were "fabulously innovative," adding,
"Kylie, Naomi and Irina's looks celebrate the beauty of wild animals and may be a statement against trophy hunting, in which lions and wolves are torn apart to satisfy human egotism."
Considering the designs contain no trace of animal fur or leather, Newkirk is all for them, saying, "We encourage everyone to stick with 100% cruelty-free designs that showcase human ingenuity and prevent animal suffering." She does want to remind Jenner and other stars though that they can strive to ensure their clothes are cruelty-free and "extend this creativity to exclude sheep shorn bloody for wool and silkworms boiled alive in their cocoons."
Though hard to please PETA may be a-okay with the design, that can't be said for the rest of the internet, with many calling the design disturbing. They believe that, despite the fact that the heads are man-made, the accessory will spark an interest in trophy hunting. Many critiqued the business mogul in her Instagram comments section, condemning her for wearing the design.
Jenner, along with other members of the Kardashian-Jenner clan, has come under fire numerous times in the past for the use of fur, with Kim Kardashian having been flour bombed by someone who shouted "flour hag" at her. The incident occurred not long after PETA erected billboard showcasing the reality star in a fur vest in West Hollywood. Kim Kardashian has since had all the fur garments in her wardrobe replaced with synthetic fur pieces.