'M3GAN 2.0' is happening, here's what to expect from the sequel
Warning: This article contains spoilers for M3GAN.
Horror's first box office success of 2023 was the killer doll comedy M3GAN, and surprisingly absolutely no one, it's now set up to get a sequel. The powers that be at Blumhouse and James Wan's Atomic Monster production company have seen an original, successful horror film top box office.
Now it's time for the next step as it goes down the valley into franchise film status. While legacy horror franchises have struggled in recent years at the box office as the law of diminishing returns remains true, newer original ideas have flourished. The likes of Mike Flanagan, Ari Aster, Benson and Moorhead, Ti West, and James Wan have all cemented themselves as excellent people to begin a horror series.
Here's what is likely to come from M3GAN 2.0.
Returning cast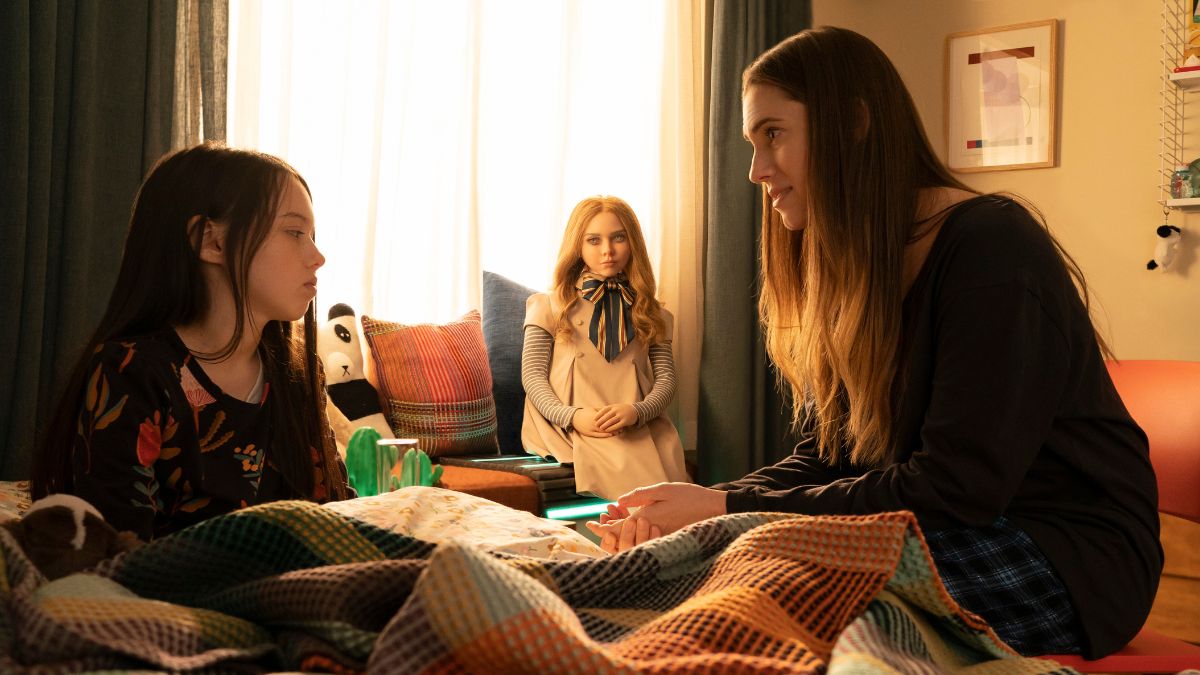 Initial reports have suggested the two leads Allison Williams and young Violet McGraw will return for the sequel, which means narratively it'll be a direct follow-up to where they left the first film off. Following up means there'll likely be further development to the surrogate parent relationship, alongside the themes of grieving and childhood trauma. Fun times all around.
Given McGraw will naturally be older by the time the sequel comes around, the story could see it pick up with her now a teenager. Speaking of which…
Storyline
M3GAN ends with the titular doll having her comeuppance, as she is literally torn apart and made to look like Anakin at the end of Revenge of the Sith. The last shot of the film is her A.I. assuming control over the Alexa-esque home assistant, proving the artificial intelligence has only gotten more potent and powerful.
The satirical element of the first film will likely get dialled up to eleven for the sequel, with the series not pulling its punches at tech billionaires or late stage capitalism. Perhaps a more direct Elon Musk parody is up next for M3GAN 2.0, though he's essentially already a parody of himself.
Akela Cooper to pen again
The mind of Cooper was instrumental to M3GAN. Few writers quite have the knack for novelty horror like Cooper, who has shown across three films her penchant for the campy elements of horror. 2.0 will be her first ever time doing a sequel to one of her films, which is always an interesting and tough scenario. Was M3GAN a flash in the pan success, and is there really much more story left to tell? Or is Universal just trigger happy after finally having a strong, new horror film?
Director still up in the air
Gerald Johnstone did an exceptional job overall with M3GAN, but initial reports have yet see him confirmed to return for 2.0. Given the positive reaction it's hard to see him not return for part two, especially with the first partly filmed in his local New Zealand.
Perhaps given her excellent work on screenplays, writer Cooper could look to take on the director's chair after several projects as a producer. All signs however point to a Johnstone return, with him previously speaking with excitement at the future.
PG-13 again?
M3GAN was initially cut down from an R-rating to make it more financially viable with a PG-13 rating. This decision didn't result in many real issues or softness in the final product, but does now open up an interesting quandary for the sequel. Should it completely go for broke with an R-rating or keep it as is, which is to say a much more marketable and accessible gateway horror film?
The likely outcome is PG-13. Hollywood has seen a successful horror film, both financially and critically, with a PG-13 rating. Universal will not want to play around too much, however the rumored unrated cut of M3GAN could mean at least an unrated cut for the sequel on home video.
January release
As mentioned before, January is typically a graveyard for big blockbuster releases. Typically a period utilized for releasing Oscar bait flicks into mainstream circulation and tax write-off releases, it's seeing a metamorphosis. M3GAN's success in this window is obviously good news for its sequel, but also to rival studios to use this month like any other.
M3GAN 2.0 is scheduled for another January release, with it tentatively penciled in for Jan. 17, 2025.